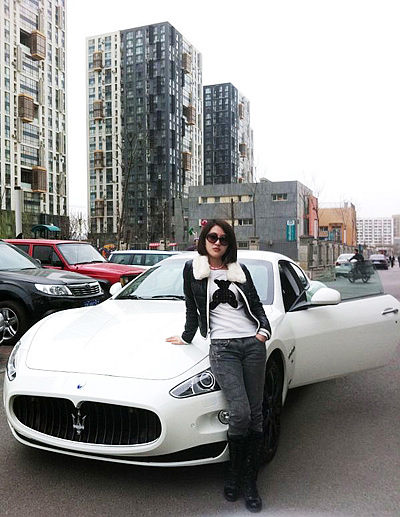 UNDER FIRE: Guo Meimei, who claimed to be general manager of a company called Red Cross Commerce and flaunted her wealth on the Internet, sparked the ire of netizens (FILE)
Guo Meimei has become a household name in China since late June. On June 21, she caught the attention of netizens for the first time by posting pictures of her lavish lifestyle on Weibo.com, a Twitter-like microblogging website. The photographs feature fast cars, designer handbags and a palatial villa.
This sort of extravagance isn't unusual in today's China, but the fact that Guo, whose real name is Guo Meiling, claimed to be general manager of a company called Red Cross Commerce and just 20 years old drew attention to her brash posting.
Online message boards and blogs were soon awash with questions.
How did she become general manager at such young age? What exactly is Red Cross Commerce? Where does all her money come from?
Determined netizens uncovered more information on Guo and suggested her wealth was the direct result of corruption within the Red Cross Society of China (RCSC).
The flurry of online activity soon brought to light that Guo was not from a wealthy family and just five years ago, it seems, she was living in a rented flat with her mother.
Five years later, however, she began to flaunt her Maserati and Lamborghini sports cars, vaults of designer bags and palatial villa.
"How did this happen?" asked dozens of microbloggers.
Embezzled money from the RCSC was the conclusion most people came to.
Research by enraged netizens discovered Guo's boyfriend, Wang Jun, was a businessman in Shenzhen, a boomtown in south China's Guangdong Province. Wang was a board member of Zhonghong Boai Asset Management Co. that is connected to the RCSC. However on June 26, five days after Guo's microblog posting hit the headlines, he resigned from his position in the company. This resignation only strengthened people's suspicions that Wang and Guo's fortune stemmed from their dealings with the RCSC.
On June 28, the RCSC held a press conference, denying any connection to Guo. Senior RCSC officials said there was no such organization as Red Cross Commerce.
The society also said it had reported the case to the police as Guo had fabricated both the company "Red Cross Commerce" and the title "general manager," which had tarnished the RCSC's reputation.
The statement, however, failed to assuage the anger of netizens and salvage the reputation of the RCSC. An online survey showed more than 77 percent of 124,661 respondents said they distrusted the RCSC.
Tainted image
This is not the first time the Red Cross has come under fire this year.
On April 15, a photo of an invoice for the Red Cross office in Shanghai's Luwan District was posted by a microblogger. The invoice revealed the office spent 9,859 yuan ($1,530) on a meal for 17 people at a high-end restaurant on February 28.
The office defended itself by arguing the expenditure on the meal came from its government-provided administrative budget, rather than from donations. However, the general public refused to believe its explanation and called for an audit of Red Cross organizations' expenditure.
"Most charitable organizations in China are monopolized by the state and the lack of transparency within these organizations means their managers can do as they please with the donations they receive," said Hu Xingdou, an economics professor at the Beijing Institute of Technology.