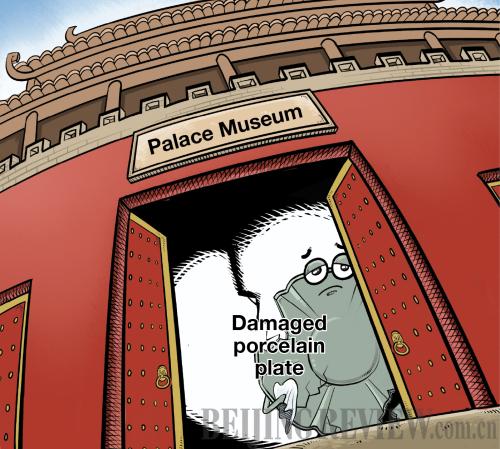 (CFP)
 The curator of Beijing's Palace Museum, Zheng Xinmiao, has been a largely low-profile figure, and his name only became known to most average Chinese citizens after the Xinhua News Agency released an interview with him in August, in which Zheng apologized for a string of mishaps in the institution that houses the largest collection of China's national treasures.
The Palace Museum, founded in 1925, is located in the Forbidden City, which served as the Chinese imperial palace in Ming (1368-1644) and Qing (1644-1911) dynasties.
The bad times for the museum began on May 8, when exhibition pieces on loan from a Hong Kong-based museum were stolen from the palace complex. In the following three months a series of scandals, from the damage of rare antiques by staff to an alleged attempt to cover up an embezzlement scam involving its security guards and tour guides, have hit the Palace Museum.
The sheer number of scandals surrounding the Palace Museum have led the general public to lose faith in the management of Beijing's most popular cultural heritage site.
"Perhaps they've covered up many similar mistakes before," said a netizen known as Thinkid in a post on Sina Weibo, a twitter-like micro-blogging service in China.
Wu Zhengyuan, a Beijing resident, said in a blog post, "The Palace Museum is a world famous landmark containing numerous items that are thousands of years old. It is an important piece of heritage for foreign visitors and Chinese alike. But if no responsible staff can be found to properly take care of even these treasured items then frankly it's difficult to feel optimistic about China's standing in the world."