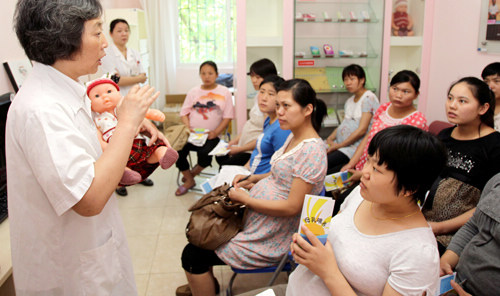 PRENATAL CLASS: A doctor gives a prenatal lecture to pregnant women from migrant families at a community health care center in Minhang District, Shanghai (XINHUA)
The world's population officially hit 7 billion on October 31, with many countries around the world choosing their own symbolic baby, holding rallies and other events to mark the latest stage of the global population growth.
"With planning and the right investments in people now … our world of 7 billion can have thriving, sustainable cities, productive labor forces that can fuel economic growth, youth populations that contribute to the well-being of economies and societies, and a generation of older people who are healthy and actively engaged in the social and economic affairs of their communities," the United Nations Population Fund (UNFPA) said in a report entitled The State of World Population 2011: People and Possibilities in a World of 7 Billion.
According to the report, the population milestone "will be marked by achievements, setbacks, and paradoxes."
"There is much to celebrate in world population trends over the last 60 years, especially the average life expectancy, which leapt from about 48 years in the early 1950s to about 68 in the first decade of the new century. Infant deaths plunged from about 133 in 1,000 births in the 1950s to 46 per 1,000 in the period from 2005 to 2010."
In light of growing concerns about the global economy, the UNFPA report highlights financial dangers caused by population changes facing both industrialized and developing countries.
"In some of the poorest countries, high fertility rates hamper development and perpetuate poverty, while in some of the richest countries, low fertility rates and too few people entering the job market are raising concerns about prospects for sustained economic growth and the viability of social security systems," the report says.
The UNFPA report projects that by 2025 India will have 1.46 billion people and overtake China's 1.39 billion to be the most populous country.
The world population reached 5 billion in 1987 and 6 billion in 1999. A UN report published in May predicts a global population of 9.3 billion by 2050, and more than 10 billion by the end of this century.
According to the National Population and Family Planning Commission (NPFPC), the proportion of China's population against the world's population has dropped from 22 percent to 19 percent over the past 30 years. Meanwhile, China's infant mortality rate and maternal mortality rate have dropped to the lowest among developing countries. The average life expectancy of Chinese citizens has increased from 68 years old 30 years ago to 73.5, which matches the standard of moderately developed countries.
"Without China's family planning policy, the world population would have surpassed 7 billion five years ago," Zhai Zhenwu, Dean of the School of Sociology and Population Studies of Renmin University of China, told Xinhua.
Despite its developing country status, the stable low birth rates have propelled China into an era of low population growth. Structural imbalances of population, such as an aging society and a skewed sex ratio at birth, have replaced explosive growth to become the country's top demographic challenges.
"Population is not the smaller, the better," said Zhao Baige, Vice Minister of the NPFPC, on the sideline of an international conference commemorating the World Population Day in July. She told the Beijing-based Guangming Daily that it is essential to keep the population balanced in structure and that the priority of China's population management is shifting from quantity control to quality improvement.
According to results of China's latest census conducted in 2010, China's population still remains the world's largest at 1.37 billion people. But it grew by less than 1 percent annually in the last decade. China's fertility rate was less than 1.5 children per couple in 2000-10. It is on par with, or lower than, those of developed countries such as the United States, France and Spain.
China's latest census showed the country's sex ratio at birth was 118.06 in 2010, which means there were 118 male births compared to 100 female. Worldwide, the normal sex ratio at birth is between 103 and 107.
"China's skewed sex ratio will have serious implications for marriage and even hamper the country's economic growth and social stability," Peng Xizhe, Dean of the School of Social Development and Public Policy of Fudan University in Shanghai, told Shanghai Financial News. Peng also predicted that China's sex ratio at birth will further tilt toward boys over the next decade.