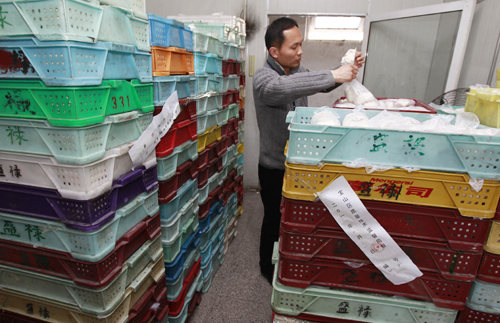 A food safety regulator confiscates shoddy food products in a warehouse in Shanghai on April 12 (PEI XIN)
The Ministry of Health announced a ban on the production of two food additives commonly used to "bleach" flour on March 1.
The two additives, benzoyl peroxide and calcium peroxide, were banned amid public concerns that China's current food processing techniques cannot mix the additive evenly and excessive use of the additive might become "a hidden peril."
The ban is part of China's tightened efforts to improve food safety.
National and local crackdowns on food safety-related crimes have been launched throughout the country. Between January and October, courts at various levels tried a total of 173 cases related to food safety and 255 people were sentenced to prison terms.
In March, an investigation into the safety of pork was launched in Henan Province after several farms were found using clenbuterol, a banned chemical that makes pork leaner but can be harmful to humans, in pig feed. Eventually a total of 113 people received sentences for selling and using the chemical.
In August, the police initiated a nationwide food safety campaign to curb the illegal production and sale of "gutter oil" or illegally recycled cooking oil. By the end of November, more than 700 suspects had been detained during the investigation of 128 cases.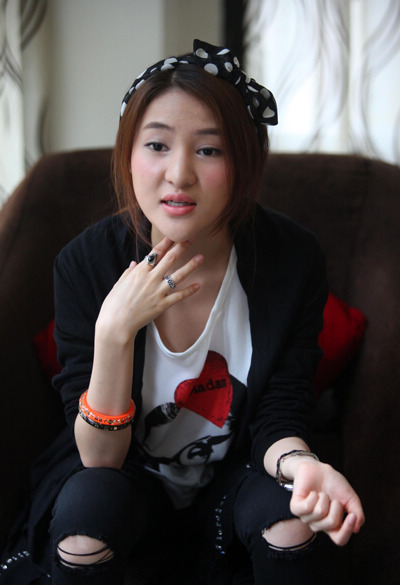 Guo Meimei (CFP)
The Red Cross Society of China (RCSC) came under fire after a credibility scandal erupted on the Internet on June 21. Netizens were infuriated when, Guo Meimei, a 20-year-old micro-blogger claiming to be the general manager of Red Cross Commerce, flaunted wealth by posting photos of her extravagant lifestyle.
Although both Guo and the RCSC later denied having any ties to one another, further leaks concerning poor accounting and waste at the RCSC continued to flood the Internet.
Donations to charities in China have plunged as a result of the scandal.
In response, the RCSC pledged to increase transparency and establish channels to allow better communication with the public.
The State Council released a statement on October 19, saying that the country will establish a social credit system nationwide to create an honest and trustworthy society over the next five years.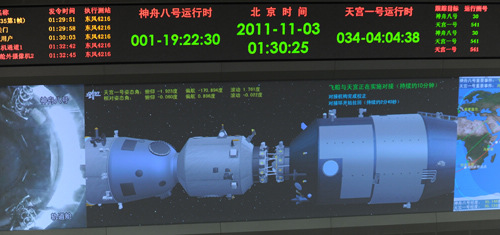 The Shenzhou-8 spacecraft docks successfully with the Tiangong-1 space lab module on November 3 (WANG YONGZHUO)
China successfully concluded its first space rendezvous and docking mission, upon the safe return of the unmanned spacecraft, Shenzhou 8, to the Earth on November 17. China is the third country to master space docking technology after the United States and Russia.
Launched from the Jiuquan Satellite Launch Center on November 1, Shenzhou 8 successfully rendezvoused and twice docked with the Tiangong-1 space lab module on November 3 and 14. Launched on September 29, Tiangong-1 will remain in orbit to await future docking attempts with Shenzhou 9 and Shenzhou 10 spacecraft in 2012. At least one of these two missions will carry astronauts.
The 49-day space-docking mission paves the way for China's establishment of a permanent manned space station by around 2020.