At a national poverty alleviation meeting on November 29, the poverty line in China's rural areas was raised to an annual per-capita net income of 2,300 yuan ($359), up by more than 80 percent from the 1,274 yuan ($199) standard set in 2010.
The sharp increase brings China's poverty line closer to the international standard of $1.25 a day, which was established by the World Bank in 2008. It will make 128 million people eligible for government anti-poverty subsidies.
The Chinese Government has set the goal to adequately feed and cloth the country's impoverished people by 2020. Their access to compulsory education, basic medical care and housing will also be ensured.
The State Council Information Office released the Assessment Report on the National Human Rights Action Plan of China (2009-10) on July 14.
It says that all the measures stipulated in the action plan, the first of its kind in China that was published in April 2009, had been put into practice, and all the goals and tasks set out in the plan had been fulfilled by the end of 2010.
"Over 50 percent of the targets concerning people's livelihoods were met ahead of time," says the report.
At present, the second National Human Rights Action Plan of China, which is expected to guide the country's human rights work from 2012 to 2015, is being formulated. The new plan will cover economic, social and cultural rights as well as civil and political rights.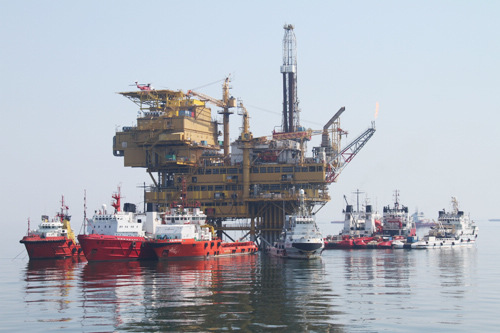 A leaking rig at the Penglai 19-3 Oilfield (LUO SHA)
Spills first reported on June 4 at the Penglai 19-3 Oilfield operated by ConocoPhillips China, a subsidiary company of U.S. oil giant ConocoPhillips, polluted around 6,200 square km of water in north China's Bohai Sea, resulting in the country's worst offshore maritime pollution accident in history.
After an investigation into the cause of the spills, the State Oceanic Administration said on November 11 that the spills resulted from defects in ConocoPhillips China's production and management faults. The company was accused of violating the original protocol of exploitation and failing to take necessary precautions when there was a high risk of a spill.
In the wake of the spills, legal experts and environmentalists have called for an emergency response mechanism to tackle environmental accidents.
On December 13, more than 100 Chinese fishermen filed a lawsuit seeking total compensation of 490 million yuan ($76.6 million) from ConocoPhillips China. They blamed the oil spills for damaging their sea scallop and sea cucumber catches.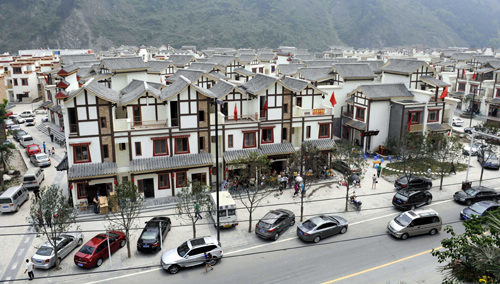 The rebuilt Yingxiu Town in Wenchuan County, Sichuan Province (LI QIAOQIAO)
The Chinese Government announced on May 10 that three years after a devastating earthquake in Wenchuan County, southwest China's Sichuan Province, official reconstruction targets have basically been met.
On May 12, 2008, an 8.0-magnitude earthquake hit Wenchuan. The number of dead and missing totaled more than 80,000 people, and millions lost their homes. Neighboring provinces, such as Gansu and Shaanxi, were also affected.
At the end of September 2008, rescue and relief work in the quake-affected area shifted its focus toward reconstruction, and the Chinese Government made a three-year plan for the area's redevelopment.
As of May 95 percent of reconstruction projects had been completed, with the remainder to be finished by the end of September.
By the end of April, more than 38,000 projects of a total 41,130 had been completed at a cost of 885.1 billion yuan ($138 billion).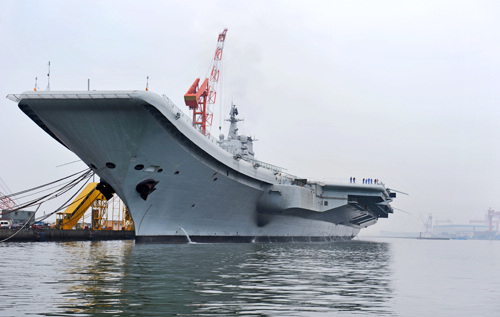 China's refitted aircraft carrier (XINHUA)
China's first aircraft carrier set out on its low-profile maiden sea trial on August 10 and returned to port on August 14.
The vessel, an Admiral Kuznets class aircraft carrier with a displacement of 58,500 metric tons, was originally built by the former Soviet Union and was formerly called Varyag. After the former Soviet Union disintegrated in 1991 Ukraine, which had the ownership of the unfinished Varyag, disarmed the ship and removed its engines before selling it to China.
The vessel has been totally refitted for its new role as a research and training platform for the Chinese military.
The aircraft carrier conducted its second sea trial between November 29 and December 11.