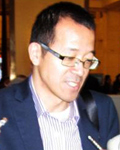 Yu Minhong (MIAO XIAOYANG)
Students from rural migrant workers' families should enjoy the same quality of education as their peers in urban areas, a political advisor said during the country's top political advisory session.
Yu Minhong, a member of the 11th National Committee of the Chinese People's Political Consultative Conference (CPPCC), the country's top political advisory body, made the remarks after the opening session of the CPPCC on March 3 in Beijing.
Currently, children of rural migrant familes number around 15 million, and many of them are school-aged. Yu said that the registration and enrollment process needs to be changed as China experiences even more rapid urbanization. This same factor is also creating disparities in education between rural and urban areas. Finally, Yu also said that the current household registration system and the way resources are being allocated are also contributing to the issue.
According to the Medium and Long-term National Educational Reform and Development Plan (2010-2020) approved by the State Council on May 5, 2010, giving students fairer access to quality education should be a "fundamental policy," and more public education resources should be made available to rural areas. Unfortunately, the problem remains unsolved as no detailed suggestions or reforms were actually given, Yu said.
According to Yu, one feasible solution would be to base the country's education budget on the actual number of students in different areas, rather than on household registration figures. By using actual enrollment numbers instead of household registrations, the local government could ensure that rural mirant students receive the same resources and education as their urban peers.