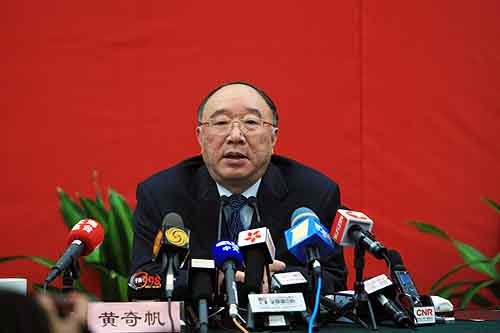 PRESS MEETING: Huang Qifan, mayor of southwest China's Chongqing Municipality and deputy to the Fourth Session of the 11th National People's Congress, speaks to journalists in Beijing on March 4 (JIANG XIAOYING) 
Low- and middle-class citizens might have a better shot at nailing down their dream home in southwest China's Chongqing Municipality. The municipality formally launched a pilot property tax project by imposing a property tax on commercial villas and individual high-end houses on January 28.
"The property tax project is designed to help low- and middle-class citizens find affordable houses to live in," said Huang Qifan, Mayor of Chongqing and deputy to the 11th National People's Congress (NPC), the country's top legislature, at a recent press conference in Beijing.
Property taxes are targeted
According to the project, Chongqing set its property tax rate at 0.5-1.2 percent. It will tax all villas as well as new apartments priced at least two times the average price of all new homes in the city.
Annual tax rates are 0.5 percent of the transaction prices for villas and apartments priced less than three times the average price; 1 percent for those priced three to four times the average; and 1.2 percent for those priced more than four times the average.
For families, the first 180 square meters of villas and the first 100 square meters of high-end apartments are exempt from tax. For non-permanent residents who don't work or run companies in Chongqing, second homes will be taxed at 0.5 percent regardless of the price.
The project, in Huang's eyes, will make a difference in many ways. Firstly, it will help return fairness to China's housing market, as the new taxes will aim at bringing down the staggeringly high cost of high-end homes; in the meantime, the tax income derived from the sales of those homes will be invested in the construction of low-income housing.
Secondly, it will change real estate investment trends. The taxes will increase the cost of holding or trading property, which will eventually persuade investors to look for new ways to invest. Finally, Huang added that the implementation of the new property taxes will improve China's taxation system as a whole.
The Chongqing tax project indicates that China may continue to improve its taxation system in the future, Huang noted.
However, Huang also asked people not to pin their hopes for lower housing prices on the new tax project alone.
"Housing prices are decided by supply, the proportion of investments being made to the number of houses being built, and the Central Government's monetary policies and taxation," he said. "Property tax is one of the taxes related to real estate, so it will not necessarily address all of the problems in China's real estate industry."
Some Chongqing residents expressed concern about the new taxes eventually being pushed on those living in middle- and low-income housing projects, but Huang promised that the new taxes will only be applied to high-end homes.
Real property may be next
The determination of the Central Government to bring housing prices under control this year will have a great impact on the revenue from land in Chongqing. Nearly 45 percent of the municipality's total revenue came from real land sales in 2010. Chongqing's taxes will bring in 40 percent more income for the municipality in just the first two months of this year than they did during the same period last year, according to Huang. The total tax income for 2011 is expected to increase by over 30 percent.
However, Huang isn't afraid of the impact that the new taxes will have on real property revenues. "The local government increases the cost of land and brings in a lot of money in just a few years, but this won't be good for the long-term development of the city's economy," he said.
In contrast, Huang believes that the city's economy will skyrocket if real property costs drop, because lower costs will allow more laborers to live and work in the city.
"If house prices become more reasonable and public apartments are made available for migrant workers, this will create great wealth for Chongqing despite the current labor shortage," said Huang. He added that regulations concerning property prices will help to improve the city's investment environment, adjust its economic structure and allow the city's economy to develop in a stronger and healthier way.
Public housing looks promising
The recent reform of urban hukou (permanent residence certificate) registration has resulted in large numbers of rural citizens moving to Chongqing, creating housing difficulties for these new arrivals.
According to Huang, public apartments which are intended for low-income families should enjoy fewer taxes and fees to keep them affordable. "This is what a government should do, and what the Central Government requires us to do," Huang said.
Huang added that capital resources for the construction of these public apartments should come partly from government appropriations and social security funds. Loans from banks and insurance companies should also have a hand in supporting the construction of these facilities. "This kind of capital collection is part of every market economy, and could be promoted widely," he said.
The problems of repaying these loans may be solved by collecting rent, earning profits through trade-related service facilities built into the apartment buildings, and the actual sale of the apartments, according to Huang.
"This kind of investment and collection is workable, I believe," Huang said.