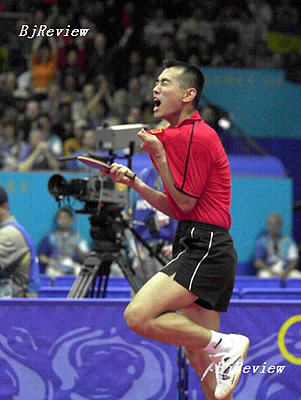 Kong Linghui, the Chinese former table tennis genius who claimed gold metals for ping pong at three world-level events, said during his career that he had two wishes: to be an "evergreen tree" in the table tennis field; and to contribute to the Olympic Games in his homeland.
One of those wishes is soon to come true. On the morning of October 18 last year the Chinese champion, who won the World Table Tennis Championships, Table Tennis World Cup, and Olympic Games, boarded a bus to the table tennis training base in Zhengding, Hebei Province. He was about to spend his 31st birthday as coach of the Chinese women's ping pong team for the Beijing Olympic Games.
A week earlier Kong had made an emotional announcement that he was retiring. "I really don't want to drop my ping pong bat," he said, before following with the news about his new coaching role, to a burst of applause.
"I'm so excited and this applause gives me great encouragement to switch from a player to a coach," he added.
"It's still hard for the young table tennis players in Sweden to surpass the veteran Waldner if they want to continue their career, but it's not the same here in China, where young ping pong talents keep popping up and overtaking the old generation."
The game of table tennis first appeared in the Olympic Games in Seoul in 1988. Since then China has claimed 11 gold medals, and in many Chinese fans' eyes nothing but first place is good enough. It is a position that puts a huge amount of pressure on Kong as he prepares the women's team for 2008.
"I think he's going to be a good coach based on his presence and glorious past achievements. He's going to make a difference in the Beijing Games," said Liu Guoliang, one of Kong's ex-teammates and now coach of the national men's team.