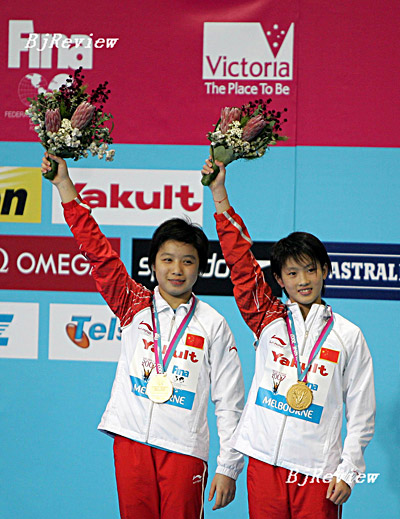 The Chinese dream team concluded the diving competition at the World Championships on Sunday with nine golds. But the powerhouse won't get dizzy with the success as others are gearing up for the Olympic Games next year.
Russian Gleb Galperin was the hero who smashed China's hopes of a clean sweep by winning the mens' 10-meter platform on Sunday.
Teenagers Zhou Luxin and Lin Yue had been expected to seal the win for China, but both of them showed unsteadiness at their first Championships.
While "diving prince" Tian Liang was excluded from the national team and Olympic champion Hu Jia was in downturn with an injury, China has to count on their young divers to make a splash in the men's platform events.
"Our divers had the capabilities of winning the event," said Zhou Jihong, team manager of the Chinese diving. "But they are young and inexperienced, so they failed to be calm enough during the competition, especially the final."
The 14-year-old Wang Xin and Chen Ruolin made one-two finish in the women's 10-meter platform final, ending the dream team's drought in this event for past two Olympics and two World Championships
However, it didn't mean that China had retrieved ascendency in the event.
"We could easily take the win just because we kept training hard after the 2004 Athens Olympics," said Zhou.
"Most of the foreign athletes will take a break after the Olympics. As I know, some of them have just come back for training recently."
Although the reigning champion Laura Wilkinson from the United States and 2003 world champion Emilie Heymans of Canada both failed to reach the podium, Zhou believed they were still competitive.
"They are very experienced and could command dives with high degree of difficulty. They could be very strong at the 2008 Olympics," said Zhou.
As for the men's three-meter springboard, World Championships debutant Qin Kai bravely claimed the victory for China, but many arrivals showed their aggressiveness in Melbourne.
The 21-year-old Canadian Alexandre Despatie missed almost whole last season due to injury but grabbed a satisfying silver in the event.
Russian legend Dimitri Sautin was 33-year-old and carrying lots of injuries. However, the prolific veteran proved with a bronze that he was still competitive and he expressed his willing to take part in his fifth Olympics in 2008.
(Xinhua News Agency March 27, 2007)