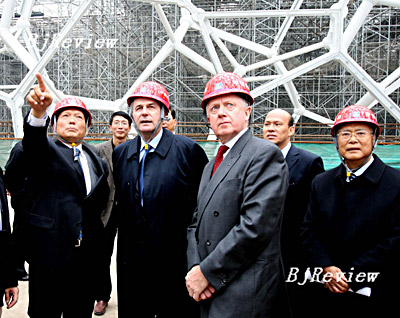 Next year's Beijing Olympic Games should help to foster change in China, International Olympic Committee (IOC) President Jacques Rogge believes.
"I think that the Games will contribute to the evolution of China," Rogge told Belgian newspaper De Tijd at the weekend.
"The 20,000 journalists who come to the Games will show China as it is. It speaks for itself that that will accelerate the social evolution," the Belgian said.
China has promised to give foreign journalists unprecedented freedom in reporting China during the Olympic Games. Rogge said he would not be surprised if Beijing chose to extend these looser press rules.
Some 500 days before the Beijing Games begin, Rogge added that there were no budgetary problems.
Organizers of the 2012 London Games have faced criticism after the British government last month more than doubled the estimated cost of staging them to 9.3 billion pounds (US$18.21 billion).
Rogge said London had decided to regenerate a bigger area of east London than just the Olympic site and was building more apartments than were needed for the Olympic village.
"The nine billion pounds does not come from the Games alone. The operational budget is 2.2 billion pounds and has not changed since the award in 2005," he said.
Rogge's eight-year term in office comes to an end in 2009. He said he had not yet decided whether to seek an extension.
"That is a decision that I will take after the Beijing Games. There is then enough time to see if I will put myself forward as a candidate," he said.
(Reuters via chinadaily.com.cn April 2, 2007)