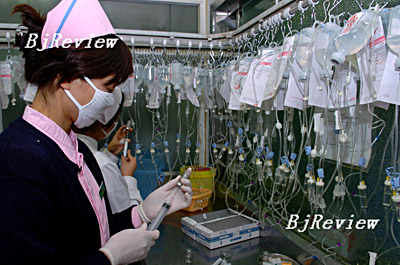 Beijing will step up efforts to build a prevention and treatment network for infectious diseases before the 2008 Olympics, the municipal health authorities pledged on Saturday to mark the World Health Day.
By the end of 2007, Beijing will have 1,350 hospital beds specially prepared for patients who contract infectious diseases. By the time the Olympics rolls around in August 2008, the city will have another 5,000 hospital beds prepared for emergency use, according to the Beijing Disease Prevention and Control Center.
In addition, Beijing is expanding the Ditan Hospital and You'an Hospital, two hospitals specially designated for the treatment of infectious diseases. Another 142 hospitals have set up outpatient departments for diagnosing and treating infectious diseases.
According to the center, in the past the outbreak of an infectious disease might not be reported in Beijing for up to a week. Now, with health officials much more conscious of the need to release information promptly, the delay has been reduced to less than ten hours.
Nineteen medical teams are receiving training to deal with possible emergency public heath problems.
The health network also includes 50 infectious disease research labs, including six working on SARS and 16 on bird flu, the health authorities said.
(Xinhua News Agency April 8, 2007)