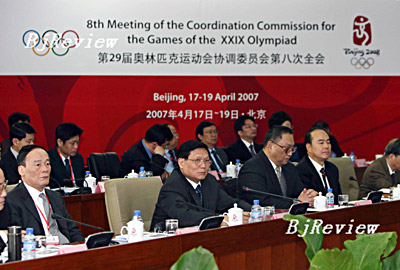 Organizers of the Beijing Olympics are instructed to keep their focus as preparations enter the final stage of the seven-year journey. Furthermore, an important delegation of International Olympic Committee (IOC) officials will begin a thorough inspection of Beijing facilities on Tuesday.
Hein Verbruggen, head of the IOC's coordination commission for the 2008 Games, praised Beijing's new achievements since his last visit, but said there was still much work that needs to be done.
"We are now less than 500 days away from Aug. 8, 2008...This is both exciting, and perhaps a little daunting," Verbruggen said at the opening of the eighth coordination commission meeting.
"Much work still remains to be done, and the focus must be maintained on our joint objective - giving the athletes a platform here in Beijing from which sporting feats and Olympic spirit can be achieved," he added.
Verbruggen promised that the IOC and BOCOG would increase cooperation to "show a high-level Olympic Games to the world through our joint efforts, and leave a strong impression on Olympic history."
Following the opening session of the meeting, the IOC inspectors toured Olympic venues, including the "Bird's Nest" that will host the opening and closing ceremonies next year, and the neighboring "Water Cube" aquatics center Tuesday afternoon.
To start the trip, Verbruggen played a table tennis game, the most popular sport in China, against BOCOG president Liu Qi. Their friendly game was part of a "mass participation" competition for Beijingers which will climax in some 10,000 playing simultaneously later this year.
During its three-day visit, the coordination commission would look at a number of functional areas of BOCOG, including the environment, human resources, medical and technology, which will all be crucial to successful operations at Games time, the IOC said in a statement.
The IOC will also hold an executive board meeting in Beijing from April 24-26.
(Xinhua News Agency April 18, 2007)