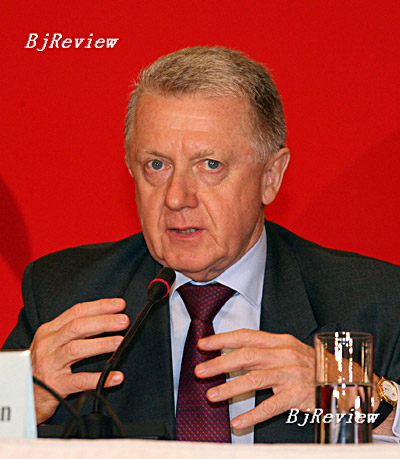 With less than 500 days to go until the 2008 Games in Beijing, a senior official from the International Olympic Committee (IOC) yesterday expressed his satisfaction with the city's plans to improve air quality and provide an efficient transport system.
Hein Verbruggen, chairman of the IOC's Coordination Commission for the Beijing Games, said: "We know that the government is undertaking a lot of initiatives to improve that (air quality), as was promised at the bid phase. Everything that was promised has been delivered."
He was speaking after the conclusion of a three-day meeting of the commission in Beijing.
"Due to the country's rapid economic development, new problems have arisen. These have created a need for contingency plans for the test event this year and the real Games in 2008," Verbruggen said.
As for the traffic problem, which after pollution had caused the most concern, Verbruggen said it had also been a worry at previous Games, but he had confidence in the government's plan to improve the situation.
Jiang Xiaoyu, executive vice-president of the Beijing Organizing Committee for the Games of the XXIX Olympiad (BOCOG) promised that all traffic plans would be in place ahead of the Games.
"We will make every effort to complete the construction of special lanes for Olympic traffic, as well as reducing the number of cars that are allowed on the roads during the Games, such as the government vehicles and some private cars," Jiang said.
"We will also encourage people to use public transport more often."
Also yesterday, the Beijing Paralympic Broadcasting Operation and Management Agreement was signed by the BOCOG, Beijing Olympic Broadcasting Co Ltd (BOB) and Olympic Broadcasting Service.
Under the agreement, BOB, which will be the main broadcaster of the Beijing Olympic Games, will also serve as host broadcaster for the Paralympic Games.
It will be the first time ever that a single broadcaster has hosted both Games.
(China Daily April 20, 2007)