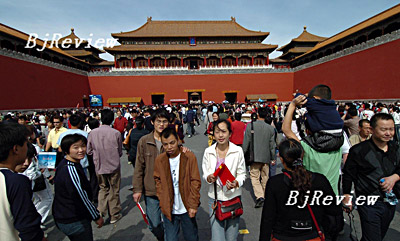 The Beijing 2008 Olympic Games will be a spur to Asia's tourism industry as many people looking to attend the event also plan to spend time exploring other parts of China and Asia, according to a recent industry survey.
Almost nine out of 10 people planning to visit Beijing for the Olympics will visit other Chinese cities if time permits, while three out of four will visit other destinations, with Hong Kong the most likely stop, followed by Singapore and Japan.
The annual survey jointly conducted by the Pacific Asia Travel Association (PATA) and Visa International Asia Pacific identified travelers from India, the Republic of Korea and the United States as "the top three markets most likely to make the journey to the Games".
PATA President and CEO Peter de Jong said the 2008 Olympic Games would not only be a draw card for Beijing but also generate inbound travel within China and benefit neighboring destinations.
"All markets in the region stand to benefit from the Games," he said.
The survey of the travel intention of more than 5,000 people from 10 markets over the next two years has identified China as one of the "five most popular destinations for those planning to visit Asia".
One in five said that the Beijing Olympic Games would be the primary reason for their visit. Respondents who said they were likely to visit China listed the fact that China was "a good place to shop" as a key feature.
Tourism experts have estimated that Beijing will receive 4.5 million tourists in 2008. The number of overseas visitors to Beijing has grown by an average of 7 percent annually since 2001, when the city won the right to host the 2008 Olympic Games, official figures reveal.
Industry analysts said that inbound spending by visitors to the 2008 Olympic Games will reach US$4.5 billion.
To maximize potential economic benefits, the Beijing Organizing Committee for the Games has mapped out a Beijing Olympics Action Plan to develop tourist products with unique cultural flavors and to offer more shopping facilities for tourists and athletes during the Olympic Games.
(Xinhua News Agency via china.org.cn May 3, 2007)