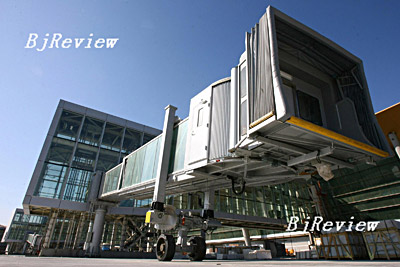 Three new passenger service systems for airport inspections are to be introduced to provide faster and better service for visitors to Beijing during next year's Olympic Games.
It is estimated that the number of people exiting and entering will hit 5 million at the Beijing Capital International Airport in August next year. The Games start on August 8.
"The number of visitors will increase very quickly during that month and it will be a big challenge for us," said Man Juyou, director of Beijing General Station of Exit and Entry Frontier Inspection, yesterday.
Man said the number of people exiting and entering last month was about 1.3 million, so the sudden rise in visitors next August will put huge pressure on passenger systems and inspection staff
"We are strengthening the training of our people to enhance service quality and efficiency as well as introducing new technologies," he said.
Man said they have only about 1,000 inspection officials working around the clock and the use of new technologies can greatly upgrade their service.
Last year, a new exit and entry frontier inspection system was put in use at the airport. Three more systems: passenger self-inspection, advanced passenger information (API), and mobile passenger inspection, are being designed for more efficient services and all will be introduced before the Games.
The API system will pass on passenger information to the inspection station as soon as passengers disembark, cutting down on waiting time.
A special mobile inspection service will help ease the pressure at the fixed checkpoints during peak times.
At the No. 2 and the now under-construction No. 3 terminals, mobile inspection vans will be driven to aircraft as soon as they land so that passengers can leave the airport from the apron.
Man said, if necessary, the mobile vans will be also used in the Olympic Village to provide exit inspection services for athletes, coaches and officials.
(China Daily via china.org.cn May 17, 2007)