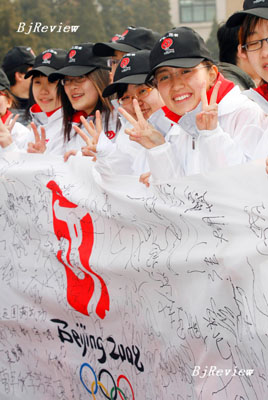 A total of half a million volunteers are needed to host the Olympic Games in China next year, but organizers will still have to turn many people away because of an enormous public response.
To host the largest ever Olympic Games in 2008, the Beijing Organizing Committee for the Games of the XXIX Olympiad (BOCOG) reconfirmed on its website recently that 100,000 game-time volunteers are needed for the Beijing Olympic Games and Paralympics. Another 400,000 city volunteers will provide information, interpreting, first-aid and other services at urban service stations around the competition venues and key areas of the capital.
Even for Beijing, with a population of about 15.3 million, the total number of volunteers needed is not a small number. Yet the level of enthusiasm to be part of the sports pageant has banished any worries the organizers had. According to statistics from BOCOG, more than 450,000 people had registered to become game-time volunteers as of April 8. That means there will be fierce competition for places even before, with only one in five getting a place.
In Shenyang, the city that will host 12 Olympic soccer games, more than 10,000 applicants handed in their resumes within the first 18 days of the volunteer application process. The oldest applicant, 89-year-old Zhao Quanshan, a retired doctor, expected his fluent Japanese and communicable English and Latin could be of use.
The game-time volunteer program has proceeded in three phases. In August 2006 it was launched for residents of Beijing; on January 19, 2007, the program was open to the provinces and municipalities outside Beijing; and on March 28, 2007, recruitment was started for residents of Hong Kong, Macao and Taiwan, overseas Chinese and foreigners. The program for city volunteers will be launched in June 2007. The recruitment of pre-games volunteers was conducted for the first time in March 2007, where 96 volunteers were selected from 540 applicants.
On BOCOG's website, a newsletter dated April 29 says that they still need to recruit another 4,000 voluntary interpreters covering 56 foreign languages to serve in VIP escort, sport team liaison, sport organization, media technical support, anti-doping and other areas. That means of all applicants, students of Beijing Language and Culture University (BLCU) will be particularly welcome to join the volunteers' team as most of them are bilingual or even trilingual. According to figures provided by the university, by the end of March, around 1,400 students and professors, including over 100 foreign students, had applied to be Olympic volunteers.
Matsuda Yoshino, 21, is a Chinese-language junior student at BLCU. Born in China, she immigrated with her parents to Japan at the age of four and returned to China to pursue university education in 2001.
Yoshino's attention to the 2008 Olympic Games started when China bid for the games in 2001. She had been well informed of latest developments from television news as Japan's Osaka also competed to be the host city, although its chances of winning were slim. Immediately after learning that Beijing had succeeded Yoshino decided to become a volunteer for the event. She will graduate in June 2008. While the Olympic Games is hosted in August, Yoshino will be enjoying a last summer break as a student, which will give her enough free time to volunteer. "This is destiny that brings me and the Beijing Olympics together," she said with a grin.
Although Yoshino is not good at any sport, her enthusiasm for volunteering for the Olympics comes from the fact that she has been an avid spectator of women's volleyball. A fluent speaker of Chinese and English, she applied for positions as an interpreter and in venue operation. She hopes that her social work experience, helping to nurse prematurely born babies in hospital, and part-time work as a souvenir shop clerk will make her more eligible.
Throughout her teenage years, Yoshino had been baffled about her identity. She intentionally avoided speaking a word of Chinese at home to deny the Chinese part of her identity. After high school Yoshino wanted to study in an English speaking country, but it was her father's idea for her to come to China.
Although Yoshino said she would go back to Japan for work after graduation, her pride in working for the Beijing Olympics as a volunteer will no doubt help her to re-establish the Chinese part of her identity.
Pambou Mavoungou Guy Arnaud, a second-year BLCU student and a former diplomat from Gabon, believes it would be an honor to be part of a sports event as grand as the Olympic Games. He said when filling the form to apply, he wrote down "Yes" in all the positions BOCOG offers to volunteers. "It is only great if they can give me a chance, so any post is good for me," he said.
General Recruiting Policy
Basic Requirements
1) Volunteer to serve the Beijing Olympic and Paralympic Games;
2) Born prior to (but including) June 30, 1990, and in good health;
3) Abide by China's laws and regulations;
4) Able to participate in pre-Games training and related activities;
5) Able to serve for more than seven days running during the Olympic and Paralympic Games;
6) Native Chinese speakers should be able to communicate in a foreign language, and applicants whose first language is not Chinese should be able to engage in conversation in Chinese;
7) Possess professional knowledge and skills necessary for the position.
Recruitment
1) Source: Volunteers for the Olympic and Paralympic Games will mainly be recruited in the Beijing area, with college students as the main body as well as a certain number of personnel from relevant departments, residents of various provinces, municipalities and autonomous regions, compatriots of Hong Kong, Macao and Taiwan, overseas Chinese and foreigners.
2) Application: BOCOG or the organizations designated by BOCOG are responsible for receiving applications.
3) Application period: Applicants can submit an application from August 2006 to March 2008.
4) Recruitment procedure: the procedure includes: Applying, the review of application materials, interview, position assignment, background check and the sending of an offer. BOCOG shall decide upon the recruited volunteers in batches according to this procedure. In August 2007, the notices for the first batch shall be sent. Recruitment shall be completed by May 2008.
5) The recruitment of volunteers in co-host cities outside Beijing: The volunteers for the Olympic and Paralympic Games in the cities of Qingdao, Tianjin, Shanghai, Shenyang, Qinhuangdao and Hong Kong shall be recruited by organizing committees in these cities under the guidance of BOCOG.
Service area and work schedule
1) Service area: Game-time volunteers mainly provide their voluntary services at venues (including competition venues, training venues and non-competition venues). According to the specific needs of the Olympics and Paralympic operations, some games-time volunteers will not serve at a fixed venue as their positions are mobile; the major areas of games-time volunteers services include guest reception, language translation, transportation, security, medical services, spectator guiding, communication organization support, venue operation support, media operation support, cultural activity support and other areas designated by BOCOG.
2) Work schedule: In principle, volunteers should work one shift (no more than eight hours) each day. Reasonable work times and shifts for special posts will be set according to the specific situation.