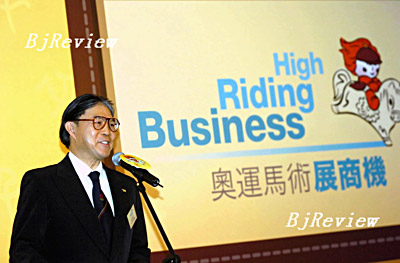 Beijing Olympics organizers on Tuesday officially launched the Equestrian Marketing Program to symbolize another landmark event in the Beijing 2008 Olympic marketing plan.
Timothy Fok, Vice President of Equestrian Committee (Hong Kong) gives speech during the official launching ceremony of the Equestrian Marketing Program of Beijing 2008 Olympics Games.
The program includes two levels of sponsorship--Associate and Supporter. Associates are exclusive sponsors in their respective category, while supporters share their exclusivity with no more than two other supporters in the same category.
Sponsors are entitled to have their names and brands associated with the Olympic Equestrian Events, the Olympic Committee of Hong Kong and the Hong Kong Olympic team.
"The marketing program in Hong Kong is part of the marketing program of the Beijing Olympics and will give financial, technical and service support to the Olympic Equestrian Events in Hong Kong and the Hong Kong Olympic team," explained Yuan Bin, director of Marketing Department of Beijing Organizing Committee for the Games of the XXIX Olympiad.
"On the other hand, the program also aims to give Hong Kong enterprises a platform on which to further build their corporate and product image," added Yuan.
Hotel, driving school, jewelry business, tourism service are listed as the categories in which potential sponsors come from.
(Xinhua News Agency via china.org.cn May 23, 2007)