A combination of distinct features of movement and China's rich cultural heritage form the pictograms for the 2008 Beijing Paralympic Games, which were unveiled yesterday.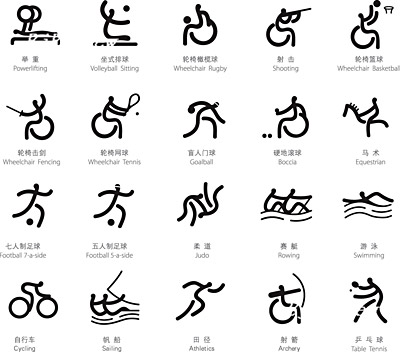 Photo of the Pictograms of the Beijing 2008 Paralympic Games released at a news conference in Beijing May 23, 2007. The Beijing Organizing Committee for the Games of the XXIX Olympiad (BOCOG) unveiled the pictograms for the Beijing 2008 Paralympic Games on the occasion of the Month for the Publicity of the 17th National Help-the-Disabled Day.
Using the Chinese seal script as the basic form and incorporating the pictographic charm of oracle bone writing and the bronze-ware script, the 2008 Paralympic pictograms have adopted the creative concepts and design styles of the pictograms of the Beijing Olympic Games, which were unveiled last August.
"Through the skillful application of the striking contrast between white and black, the Paralympic pictograms demonstrate distinct features of movement, graceful charm of dynamism and rich cultural connotations, and realize a harmony and unity of 'form' and 'content'," said Hang Hai, one of the main designers of the pictograms.
"The designs not only feature the particular movement and dynamism of each sport, but are also easy to recognize, remember and use."
The pictograms were designed by the Central Academy of Fine Arts, a member of the design group for the Pictograms of the Beijing Olympic Games.
The Paralympic pictograms cover all the 20 individual sports of the Paralympic Games, namely archery, athletics, boccia, cycling, equestrian, football 5-a-side, football 7-a-side, goal-ball, judo, powerlifting, rowing, sailing, shooting, swimming, table tennis, volleyball (sitting), wheelchair basketball, wheelchair fencing, wheelchair rugby and wheelchair tennis.
The pictograms will be widely used on road signs, in decorations in and outside the venues, and on guides for athletes and spectators. They will also be used in TV broadcasts, promotion, advertising and marketing activities to enrich the public experience of the Games.
The International Paralympic Committee approved the design of the pictograms last month.
(China Daily via china.org.cn May 24, 2007)