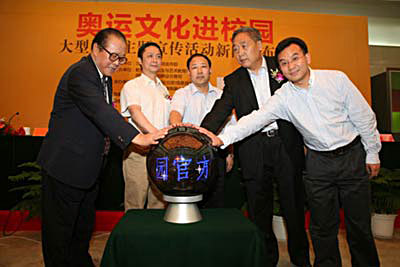 China's leading web portal Sohu has opened a channel to bring college students' attention to the Olympic Games.
Based on the 28 Olympic sports, the website has designed a number of delightful games entitled "Mini Olympics". Anyone who registers with http://2008.sohu.com/campus can take part in the games and interact through blogs.and other platforms.
The website also provides the students, numbering up to 20 million, an opportunity to make flash creations. Classified in the drama and cartoon categories, the creations may display such themes as Olympic charitable campaigns, host and co-host cities, messages to the Olympics, the Olympics and my campus, and so on. From now on, subscribers can upload their creations, which will go through appraisal of experts. The authors of the final 20 entries will compete at the CCTV representation hall to produce the top winner, who will be awarded a prize of 100,000 yuan.
Under the auspices of the Media and Communications Department of the Beijing Organizing Committee for the Games of the XXIX Olympiad (BOCOG), the campaign was co-sponsored by the Education Ministry, General Administration of Sport, and Sohu Company, internet content services sponsor of the Beijing Olympic Games.
"We run this campaign to integrate the wisdom and passion of the students into the preparatory work for the upcoming Olympics and inspire more people to spread the Olympic spirit," said Chen Luming, vice president of Sohu at the launching ceremony at the Great Hall of the People on Tuesday.
(BOCOG via china.org.cn May 30, 2007)