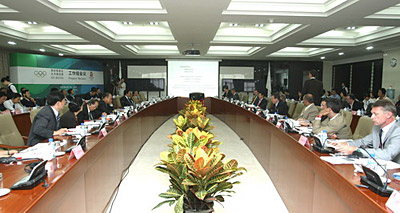 The International Olympic Committee (IOC) Coordination Commission for the Beijing 2008 Olympic Games held its August working session in Beijing on Friday to hear BOCO's updates on the progress of the Olympic preparations.
During the day-long meeting, the related departments of the Beijing organizing Committee for the Games of the XXIX Olympiad (BOCOG) updated Commision Chairman Hein Verbruggen, and other IOC officials and exchanged views on the Good Luck Beijing sport events, ticketing, venue construction, Olympic Village operations, services for national and regional Olympic committees (NOCs), media operations, marketing, logistics, transport, environment and opening/closing ceremonies, and held side meetings on transport, sport presentation and other matters.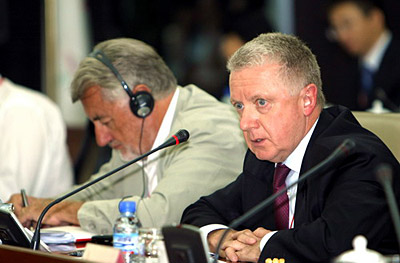 Summing up the meting, Mr. Liu Jingmin, vice-mayor of Beijing and executive vice-president of BOCOG said the fruitful discussions will have positive impact on the future preparatory work for the Olympic Games.
The Good Luck Beijing sport events, he said, are in full swing. So far several events have been wound up and they have tested the function of the venues, preparation of venue teams and quality of logistics. BOCOG hopes to increase links and further cooperation with IOC to ensure the success of the Olympics.
Mr. Verbruggen gave a thumb-up to BOCOG's work in preparing for the Olympics. His commission was pleased to see that a number of high quality venues are put in use, the BOCOG departments' work was excellently coordinated and synchronized and the decision-making capabilities of the leaders of the venue teams were also impressive.
(BOCOG August 17, 2007)