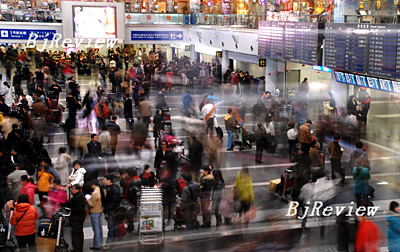 More than 60 million people will pass through Beijing Capital International Airport next year, a spokeswoman for the airport said yesterday.
She said the anticipated figure of 60.66 million was close to the airport's previous estimate for 2011.
In a phone interview with China Daily, Li Xiaomei said: "The Games will present us with some big challenges, but we are confident we can provide a safe, efficient and comfortable air travel environment."
One challenge is the new terminal building, which is scheduled to start trial runs on February 28, but will have just a few months to prepare for the influx of Olympic visitors in July and August.
The testing of a large international terminal usually takes six to eight months, Li said.
Other problems include a lack of experience in coping with large volumes of passenger traffic in such a short period of time, and the service quality still needs to be improved, she said.
The airport yesterday announced a plan to improve key areas, including the general management of the terminal building, security, its information system and human resources. Under the plan, all preparatory work will be completed by February 28, with drills held from March 1 to June 30.
"The test events and drills, will help staff to hone their skills and improve service quality before July when Olympic guests will start to arrive," Li said.
While the new terminal brings challenges, it is also a source of pride, as it will feature world-class facilities, Li said.
One of the highlights is the new US$2.4 billion luggage system, which will be able to handle 19,200 pieces per hour, more than three times the volume of the existing system. Passengers will even be able to check in their luggage one day ahead of their flight, Li said.
The system will allow passengers to check in larger pieces of luggage - up to 1 m long, by 85 cm tall, by 85 cm wide - and a five-grade security scanning system will be used to detect explosives.
In addition, the system will feature more than 200 monitors to track luggage to stop it getting lost, she said.
The new terminal building will also incorporate a Ground Transportation Center from where passengers can access the downtown rail link, airport expressway and the terminal's internal transport network.
The internal transport system will provide unmanned vehicles to carry passengers between the two towers of the third terminal, Li said.
The terminal will have 4,000 car parking places, while passengers will also be able to get to the heart of Beijing in just 20 minutes using the light rail system, she said.
(China Daily via china.org.cn August 22, 2007)