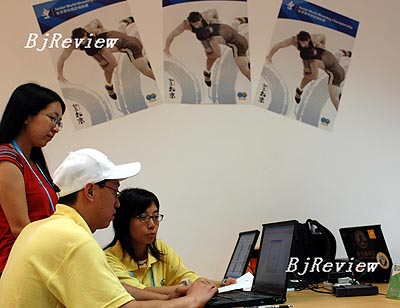 Information technology systems for the Beijing Olympic Games face a major challenge caused by the number of venue cities. The myriad responsibilities of IT will be made all the more difficult, but so far everything is on track, according to Atos Origin, an official partner of the International Olympic Committee (IOC), which is in charge of IT at the Games.
"Once the Olympic Games opens next August complete success will be our only option," said an unnamed engineer from Atos Origin.
The France-headquartered company holds the IOC's largest sports-related IT contract covering six Olympiads: Salt Lake City in 2002; Athens in 2004; Torino in 2006; Beijing in 2008; Vancouver in 2010; and London in 2012.
The firm designed and built two main IT systems, which are now fully operational, to run the Beijing Games. The Information Diffusion System will relay results and athlete information to 10,500 athletes and thousands of media representatives. The Games Management System will provide accreditation, transportation and accommodation schedules, medical encounter reports, sports qualifications and protocol information.
For the Beijing Games, one specific technical challenge for Atos Origin is that competitions will take place in six other Chinese cities other than Beijing, including Qingdao, host city of the sailing competitions and Hong Kong, which will host all equestrian events. "This has posed an unprecedented challenge to the reliability of basic IT infrastructure," said Jeremy Hore, Chief Integrator of the Beijing 2008 Olympic Games for Atos Origin.
He said his company is an integrator of various IT services, some of which are supplied by Chinese partners of the Beijing 2008 Olympics. He admitted that these partners, including Sohu.com Inc., China Mobile and China Netcom, are also playing important roles.
"We have to make all these complicated technologies simple and reliable to use so people don't have to realize the existence of technologies during the Olympic Games," he added.
The technical infrastructure for the Beijing Olympics will link together more than 60 competition and non-competition venues across China, consisting of more than 1,000 servers, 10,000 PCs and 1,000 network and security devices.
A successful Olympic Games largely relies on well performed IT services. "We don't have a second chance to fail and try again when even a one-second error could damage the reputation of this sports pageant," said Claude Philipps, Program Director for Atos Origin, working with the Torino 2006 Organizing Committee for the Olympic Games.
Atos Origin knows what is at stake as IT service supplier for the Olympic Games. Flawless IT operation at the highest-profile sports event in the world could serve as perfect advertisement for the company, while one small mistake could easily destroy its reputation built through the last three Olympics.
Critical test phase
Atos Origin's project for Beijing moved into the test phase in August. This is the fourth of five phases, which cover planing, designing, building, testing and operation. During the "Good Luck Beijing" Olympic test events in August, Atos Origin has been testing its systems, infrastructure and operational processes in a live competition environment.
Jeremy Hore said the Beijing Olympic Games will witness the debut of many new technologies. But he also admitted they are trying to strike a delicate balance between state-of-the-art and reliability. He said his company would not use any brand new 2007 technology, as there would not be enough time to test its reliability. "We have to fully consider the risk of using technologies since reliability is the top priority," he said.
Hore explained the safety of the IT systems is measured by three standards. First is confidentiality; second is reliability, which means hackers cannot attack the system; the third is integrity, which means nobody can enter the system to manipulate competition results.
Atos Origin has cooperated closely with the Beijing Organizing Committee for the Games of the XXIX Olympiad to set up a powerful monitoring system, which proved very helpful during the Athens Olympic Games and the Torino Winter Olympic Games. The monitoring system can analyze and screen data, and establish if any problems have arisen.
"If the same mistake happens repeatedly at one stadium, we would suspect that somebody is trying to spy on our system. Then we can find the loophole and patch it. This is the key role of our monitoring system," said Hore.
Hore said staff, intern and volunteer training, will also be high on the agenda of operational planning.