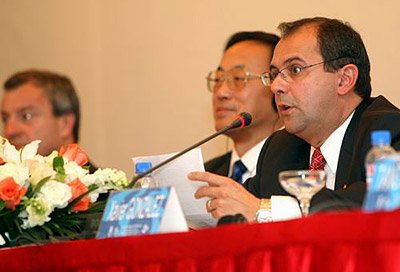 A year from today the Beijing Paralympics will begin and senior officials from the International Paralympic Committee (IPC) are pleased so far with preparations.
"Things are going very well. I mean, we are one year out, but where we want to be," IPC Chief Executive Officer Xavier Gonzalez said yesterday.
"The final year is the most important because all the details and operations start to fall into place. We are very satisfied."
He said he was confident concerns over traffic would be met.
"Beijing has a lot of traffic. That's a challenge always. But the BOCOG (Beijing Olympic organizing committee) is planning to ensure transportation between facilities and venues is as smooth as possible," he said.
Gonzalez is attending the Chiefs de Mission seminar for the Paralympics. The three-day seminar will conclude tomorrow.
The Beijing organizing committee will brief the national and regional Paralympic committees on readiness for the Paralympics, listen to their needs and seek suggestions for improvements.
Gonzalez said the BOCOG had already created many firsts in its preparations for the 2008 Paralympics.
"The BOCOG is the first organizing committee to prepare and hold both the Olympics and Paralympics under a framework agreement between the International Olympic Committee and IPC.
"And, for the first time, a certain quota of participants at the Beijing Paralympics will be granted a free international trip to Beijing," Gonzalez said.
The Paralympics will be held from September 6 to September 17, featuring 471 events across 20 disciplines.
Also yesterday, Beijing officials said the city will meet requirements for a "barrier-free environment" providing disabled access.
Cao Yuejin, a commission member of the Beijing municipal commission of urban planning, said the city had been working for 22 years to achieve this target.
Barrier-free construction is ongoing and includes upgrading projects at Olympic venues, surrounding areas, roads, traffic areas, scenic spots, shopping malls, hospitals, post offices, schools, parks, airports, railway stations and social welfare facilities.
It is estimated more than 4,000 disabled athletes will attend the 2008 Paralympics and half of them will be in wheelchairs.
(China Daily via china.org.cn September 6, 2007)