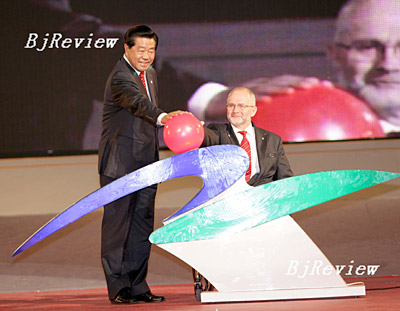 Beijing organizers unveiled the planned routes for the torch relay of the 2008 Paralympic Games Thursday to mark the one-year countdown to the opening of the Games.
The torch relay, which for the first time includes an international itinerary, will start its journey on Aug. 28, 2008, under the slogan "Light the Passion, Share the Dream" in Beijing, and travel in three routes simultaneously.
Future Paralympic Games host cities (London, Vancouver and Sochi) have been invited to participate in the relay. The three flames will merge in Beijing on Sept. 6, 2008 before heading to the Paralympic Games Opening Ceremony.
During a ceremony held Thursday night at the China Millennium Monument, BOCOG and the International Paralympic Committee (IPC) also formally conveyed invitations to National Paralympic Committees to attend next years' Games. Representatives from more than 90 National Paralympic Committees are currently meeting in Beijing for the Chef de Mission Seminar.
"I am truly honored to be here today to represent Paralympic athletes and fans of the Paralympic Movement around the world and mark the beginning of this great countdown," said IPC President Philip Craven.
"From this point on, the excitement will mount every single day. Activities and preparations related to the Paralympic Games are in full swing gearing up towards a successful experience in September 2008," he added.
The celebrations will be followed by the first Paralympic specific test event of Goalball next week.
Meanwhile, Chinese officials promised to make the city "barrier-free" by next September.
Beijing is upgrading its subway system, buses, airports and train stations to accommodate the needs of the handicapped, said Tang Xiaoquan, president of the Executive Board of the China Disabled Persons' Federation (CDPF).
"We have a plan to ensure that people with disabilities will have access to wherever they want to go," Tang told a press conference. "We have already made remarkable progress."
At the Beijing 2008 Paralympic Games, approximately 4,000 athletes from 150 countries and regions are expected to compete in20 sports, with rowing making its debut at these Paralympic Games.
(Xinhua News Agency September 6, 2007)