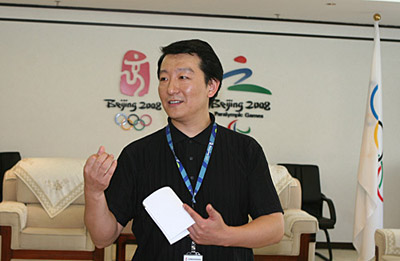 The Beijing Organizing Committee for the Games of the XXIX Olympiad (BOCOG) announced on Saturday that it had decided to postpone the date to collect the payments from the secured tickets from September 10 to September 12.
The move is meant to give a last chance to those applicants who haven't received the notification letters yet, and to allow lucky applicants to have enough time to feed their bank accounts, according to Rong Jun, director of the BOCOG Ticketing Center.
He said his center had taken every measure to notify the applicants of the lottery results, but there are still a number of applicants who are not available. He expected the payment collection period to end on September 25.
On behalf of BOCOG, the Bank of China will start the payment collection procedure on September 12. Purchase failure will occur if the purchase exceeds the available funds in the applicant's bank account, Rong said.
He reminded those people who haven't received notification letters to put enough money into their saving accounts, so that they will not lose their hard-won chance.
He said the applicants can call the Ticketing Center through a hotline (952008) to know about the drawing results and payment collection after September 25.
Those applicants who haven't completed the payment process as of September 25, may pay at one of the 1,000 branches of Bank of China designated by BOCOG. The addresses of the bank branches can be obtained through the hotline 952008 or the bank's own hotline.
(BOCOG September 8, 2007)