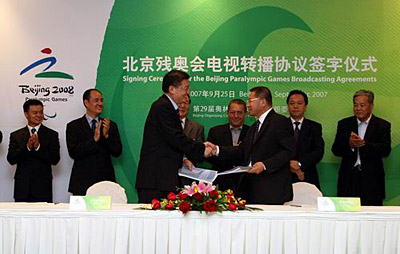 A Chinese team will produce all Beijing Paralympic Games radio and TV signals, according to a broadcast agreement signed on Tuesday to appoint two Chinese television stations the producers of Paralympics broadcast signals.
The Beijing Organizing Committee of the 2008 Olympics (BOCOG), Beijing Broadcasting Company Ltd (BOB), China Central Television (CCTV) and Beijing Television Station (BTV) signed the agreement which will see production teams of nearly 600 people from CCTV and BTV produce live broadcast signals of 11 sports including wheelchair fencing, athletics, wheelchair tennis, and tape another 12 events.
BOCOG executive vice president, chairman of BOB Jiang Xiaoyu said they finished an important job during their preparation for the Paralympics.
"It is the first time in the Paralympics history that the international radio and television signal will be produced all by Chinese teams," said Jiang. "The signing of the agreement is an important milestone in the preparation of the Paralympics and also an opportunity to show to the world the image and capability of the Chinese television media."
The Paralympics will open on September 6 next year in Beijing.
(Xinhua News Agency September 26, 2007)