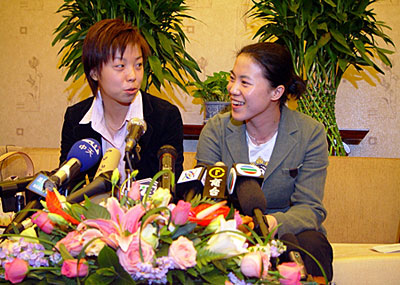 Sporting delegates to the 17th National Congress of Communist Party of China (CPC) are usually the center of attention wherever they go. This year they include Liu Peng, Minister of the State General Administration of Sport; Sun Haiping, coach of the 110m hurdles world record holder Liu Xiang; Wang Yifu, pistol shooter and participant in the previous six Olympic Games; and Zheng Jie, winner of the Wimbledon and Australian Open women's doubles titles.
Wang Nan and Zhang Yining, currently the No. 3 and No. 1 table tennis players in the world respectively, and delegates to the 17th CPC National Congress, met with the press Wednesday evening. Excerpts:
As a delegate born in the '80s, is it difficult for you to understand the other delegates during the group discussion, since most of them are of your father's or grandfather's generation? Do you plan to contribute some ideas from your generation's standpoint?
Zhang Yining: I am so proud and excited to be given this opportunity to sit side by side and have a face-to-face discussion with these excellent CPC delegates nationwide. As an athlete, I ought to concentrate on playing and it's my responsibility to play for China. Personally, I have benefited from what the elder delegates have said during the discussion. They have rich experience in political affairs, while I am still rather green in comparison. I'll try my best to imbibe as much political knowledge as possible.
Why did you join the CPC? Is there any difference between athletes with and those without a CPC membership?
Wang Nan: Everyone in China, CPC member or athlete, has a belief, namely our spiritual pillar. In my opinion, it is an honor and pride to become a CPC member. "The honor of our nation goes beyond everything", I was told and always remember this sentence as clearly as the first day I entered the national table tennis team. Such a spiritual pillar drives us, every member of the team, to play for China. I'm grateful for table tennis and what I get from the nation; otherwise I wouldn't be who I am today. Nothing can replace the strength I've cultivated from my career as a national team member.
Zhang Yining: Among my peers I was the one who actively applied for memberships, so I joined the Communist Youth League of China when I was a teenager. And it was natural to apply for CPC membership when I was 18. The approval process was smooth, and it probably contributed to my excellent performances, as well as my active interest in the learning of CPC constitution and related knowledge.
What do you perceive as the main differences between being a CPC delegate and being an athlete? Which role is harder for you?
Wang Nan: Playing table tennis is my career, while being a CPC delegate is an honor granted by the nation.
Zhang Yining: I often review my career route. I began to play table tennis at the age of five. All the way from the local amateur school sports team to the national team, I was blessed to get what the nation gave me; all my table tennis accessories are totally free, and I never have to worry about trifling things in everyday life. The only thing I am willing to do is to make every effort to play for the nation in return.
How do you perceive a harmonious society and what does it mean to an athlete?
Wang Nan: Harmony is very important to the whole world. I was thinking about it when General Secretary of the CPC Central Committee Hu Jintao delivered the report to the Congress. A harmonious society for us athletes, in my opinion, means that at least we can play for the nation steadily in various competitions.
Are there any ideas you could contribute to the model of sports training in China?
Wang Nan: Traditionally, a national team player follows a route like this: local amateur sports team -- provincial/municipal professional sports team -- youth national team -- national team. Only following the model of sports training in China can we have groups just like the national table tennis team. The predominant advantage of such a model is high professionalism; it helps to push the boundaries of sports. We have the best players to compete for world championship titles. Personally, I'm grateful for this model because of the support of the CPC and the whole nation.
From another angle, however, athletes need normal schooling. The disadvantage of the traditional model is that it separates sports training from normal schooling; as a result, it's hard for the professional athlete to shift roles after he retires. But fortunately, the Athlete Protection Law has been issued. I believe that the situation will improve, and combining sports training with normal schooling will be the ideal situation.
Are you confident of winning gold at the Beijing 2008 Olympic Games? Are you under a lot of pressure to win?
Wang Nan: A winner in the Chinese national table tennis team is a gold medallist. It is the ultimate goal of every player to get a gold medal. But a silver medallist is a "loser". The pressure we have is the same regardless of the scale of the competition. You have to overcome everything if you want to become a gold medallist. You have to adapt to this pressure from the day of one entering the national team; otherwise you will be out.
Zhang Yining: Table tennis is the national ballgame of China. Pressure is nothing new to us any more, for we have grown up and competed under pressure. Of course, we are under huge pressure because we must win the gold medal. But the most difficult thing is that there is no guarantee for winning. How to maintain peak condition and play consistently well, whether during training or competition, is a problem faced by every athlete. To this extent, the preparation we do is not for failure, but to tackle difficulties in all aspects.
Wang Nan: I think no one will defeat us as long as we don't make slight errors.
Profile of Wang Nan
Born in 1978, joined the CPC in 1999. Delegate to the 16th and the 17th CPC National Congresses.
Profile of Zhang Yining
Born in 1982, joined the CPC in 2003. Delegate to the 17th CPC National Congress.