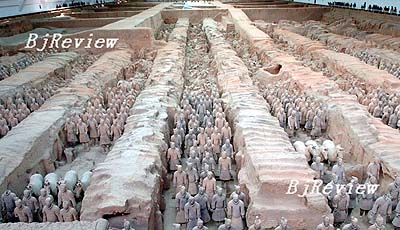 China's terracotta army is on the march and they've headed for London. But this is no ordinary invasion. A collection of the precious 2,000-year-old relics went on display at the British Museum from September 13 for a seven-month-long exhibition.
Titled "First Emperor: China's Terracotta Army," the exhibition is divided into two parts. One of them introduces some 120 relics used by Qinshihuang, the first emperor in China's history who unified the nation during a reign that lasted from 221 B.C. to 210 B.C., while the other part brings visitors face-to-face with 20 life-sized terracotta figures from the huge terracotta army found near the emperor's burial complex in northwest China's Shaanxi Province.
All the objects displayed at the exhibition are the best finds from the Mausoleum of Emperor Qinshihuang, which, according to Jane Portal, Exhibition Curator at the British Museum, is "unparalleled in terms of its extent and magnificence".
This is the first time that China has sent so many rare relics overseas, said Wu Yongqi, Curator of the Qinshihuang Terracotta Warriors and Horses Museum in Xi'an, capital of Shaanxi, which opened to the public in 1979.
Along with the warriors and their carts and horses, the displayed objects also include terracotta musicians, dancers and acrobats, as well as weapons, bronze, jade and pottery artifacts. "Our goal is to give the audience in London an overall view of life in the early part of Chinese history," said Wu.
Mysterious mausoleum
Emperor Qinshihuang is a controversial figure in China's history. Not only did he create a unified country, he also ordered the joining of defense projects of former separated states, which laid the basic foundation for today's Great Wall, and standardized measurements, currency and characters, representing a huge step in the development of China as a unified nation.
On the other hand, history books often depict him as a tyrant. He forced thousands of laborers to build his mausoleum and construct the Great Wall. Not long after his death, the Qin Dynasty (221 B.C.-206 B.C.) collapsed. In death, as in life, Emperor Qinshihuang remains an enigma. He left behind not only unprecedented pioneering achievements, but also an immense tomb that is still a mystery to people today.
The giant terracotta army was discovered in 1974 by a group of local farmers. After a year's research and excavation, archeologists declared that what the farmers had found was a large-scale pit filled with terracotta figures. The pit is 230 meters long, 62 meters wide and 4.5-6.6 meters deep. Two years later, two similar pits were found north of the first one.
The three pits cover a combined area of more than 20,000 square meters, housing about 8,000 terracotta warriors and horses, over 100 chariots and some 40,000 bronze articles, all assembled to resemble a huge army waiting deployment.
The warriors are handcrafted and were placed in the tomb to guard Emperor Qinshihuang after his death. They are slightly larger than life and painted in bright colors. However after 2,000 years these colors have faded, yet the expression of every warrior has been vividly preserved. It is still incomprehensible how these terracotta figures were so finely made when China had no tradition of sculpture making at that time, experts say.
In recent years, excavation continues at the archaeological site about 1,500 meters east of the mausoleum. Some of the finds have never been made known to the public, but they are said to include 11 terracotta acrobats and strong men unearthed in 1999, all assumed to have been placed there for the emperor's entertainment in his after life.