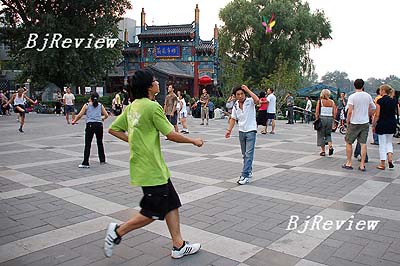 The ancient sport of jianzi, which originated in China during the 5th Century BC, is growing in popularity both across Asia and the world. Jianzi involves juggling a feathered shuttlecock using the knees and feet. Played casually, it has no winners or losers, although in professional competitions it can.
It was first called Ti Jian Zi, or simply "kicking shuttlecock" and is believed to have evolved from an ancient military exercise before spreading across Asia taking on different names as it travelled.
The latest edition to the jianzi craze is netizen Timeless-love who founded an online fan club in November and hopes to share the jianzi experience with players across China.
"I think playing jianzi is the most simple and efficient exercise for those who spend most of their work time sitting in the office and so have a problem finding ways to build their health during work hours," said Timeless-love.
"A shuttlecock was the first toy for me when I was a kid. My sister and I had to work hard to support the family so there was not much time for us to play around and the little game of playing jianzi became my favorite," Timeless-love told Beijing Review.
The fan club founder believes jianzi enjoys three major advantages over many other sports. Firstly, it requires just a shuttlecock, which costs no more than five yuan and can be played almost anywhere.
The second advantage is that playing jianzi can exercise the body in a comprehensive way as it requires coordination of the whole body. Many health experts believe that playing jianzi is also a good way to exercise hand-eye coordination, which is good for the health of the brain.
Thirdly, jianzi can be played by a group of people, so it can help to foster inter-personal communication.
Through thousands of years of social evolution, the old game of jianzi has persisted in its existence and found a niche in the modern world where people have many other sports and activities to chose from.
In China's big cities, such as Beijing, people of all ages can be seen playing jianzi alone or in groups, in parks and playgrounds, in the mornings and evenings.
In 2001, a national educational policy to promote traditional Chinese sports and exercises was launched. The policy stated that schools in different regions of China could add traditional sports and exercises to their physical education programs.
As well as being a fun sport played across China, jianzi is also played competitively and has graced the country's cinema screens. The first national jianzi competition took place in 1933 in Nanjing at the fifth National Sports meeting. In June, 1961, a movie called The Flying Feather was so successful that it won an international movie festival gold medal.
In 1984, shuttlecock-kicking became an official national sport. The same year an enthusiastic group of fans in Hong Kong founded the Amateur Union of Shuttlecock, which in 1994 changed its name to Hong Kong Association of Shuttlecock (HKSA).
While it is already well-known in Asia, the game has been gaining popularity in Europe too. The World Shuttlecock Championship is an annual event that has been held since the founding of the International Shuttlecock Federation (ISF) in 1999. Until then, various countries have taken turns organizing championships.
The sport continues to receive greater recognition, and was included in the 2003 Southeast Asian Games. Among the members of ISF are China, Finland, Germany, the Netherlands, Hungary, Laos, Vietnam, Greece, France, Romania, and Serbia.
Viet Nam and China are generally considered the leading teams in terms of ranking, while in Europe, Hungary and Germany are considered the best. On August 11, 2003, delegates from Finland, France, Germany, Greece, Hungary, Romania, and Serbia founded the Shuttlecock Federation of Europe (S.F.E.) in Ujszasz (Hungary).