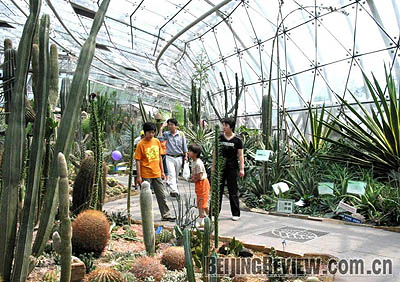 GLASS HOUSE: Tourists marvel at exotic plants in the tropical conservatory of Beijing Botanical Garden
The olive branch held by the High Priestess at the Beijing Olympic Games torch lightening ceremony in Olympia, Greece was on display in Beijing Botanical Garden from April 7 to 10. Tourists swarmed to the garden to have their pictures taken with the olive branch. For decades, the garden has been one of the favorite tourist destinations.
Beijing Botanical Garden is located in west Beijing, between Fragrant Hill Park and Jade Spring Mountain. The garden was established in 1956 as a botanical research laboratory, and a large complex arboretum to conserve a collection of plant species and cultivate new plant species, as well as a place for the public to enrich their knowledge about plants, enjoy the scenery and relax.
The garden is the largest aboretum in north China, and is home to more than 1.5 million plants that belong to over 10,000 species. The garden covers an area of 400 hectares, consisting of a historical interest division, scientific research division and nature reserve division. More than 200 hectares of the garden is open to tourists.
With slanting glass ceilings like leaves, and frames like roots, the building was ranked as one of the 10 Buildings of Beijing in the 1990s. Covering an indoor area of 17,000 square meters, the conservatory is the largest exhibition conservatory in Asia, and one of the largest in the world.
It is divided into 13 displaying areas, including the tropical rainforest area, the orchids, the bromeliads and carnivorous plant garden and the four-season garden. More than 60,000 plants from 3,100 species are grown in the conservatory, including over 1,000 species of tropical and subtropical plants. Visitors are dazzled by the richness of varieties and by some rare plants.
The Sleeping Buddha Temple nestles in the historical interests division. The temple was built in the Tang Dynasty (618-907), and has a history of more than 1,300 years. The temple has three parallel yards, and is asymmetrical in layout. On the west of the temple is a peony garden covering more than 10,000 square meters. More than 2,000 peony plants grow there.
The temple is particularly known for a rare reclining Sakyamuni bronze statue cast in the Yuan Dynasty (1279-1368). The statue portrays the scene of Sakyamuni giving his last words to his 12 disciples before his nirvana. Sakyamuni lies on his side on a bed, facing the south, with his head turned to the west. His left hand rests on his leg, and his right arm and hand are bent to prop up his head. The statue, measuring 5.3 meters in length and weighing 54 tons, is the largest sleeping Buddha statue preserved in China.