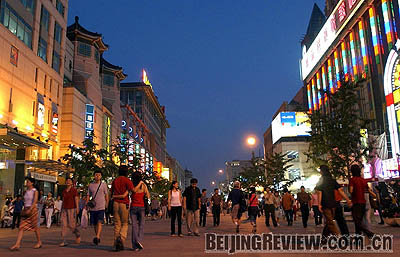 COLORFUL WALK: Wangfujing Street attracts crowds even in the evening
In the Ming Dynasty (1368-1644), the residences of 10 princes and three princesses were built here, so the street was named Wangfu, which literally means the "residence of princes." In the Qing Dynasty (1644-1911) it was renamed Wangfujing due to a well (the word for well in Chinese is jing) that produced fresh sweet water.
In the late of the Qing Dynasty, some foreign banks and firms set up offices on this street, and in the 20th century it became one of the four commercial areas of Beijing. In 1992, Wangfujing went through a thorough renovation, which lasted for almost eight years. Now, the street is a comprehensive commercial area that integrates shopping, recreation and tourism. There are altogether 765 shops of different sizes along the street, which is 810 meters long from north to south. It is also known as Golden Street in Beijing.
Walking along the street, you can see many time-honored shops and restaurants, such as Quanjude Roast Duck Restaurant, Shengxifu Hat Store, Tongshenghe Shoe Shop, and Wuyutai Tea Shop. Wangfujing is also home to a number of large department stores, souvenir shops, Chinese painting stores and shops selling other goodies. One area of interest is Wangfujing Snack Street. Five minutes from the southern gate of Wangfujing Street on the left is a tall archway in front of the entrance to the snack street. It is an area of around 2,000 square meters, bustling with vendors selling food from around China.
Wangfujing Catholic Church, which is known as the Eastern Church, is also located on the street. It was first built in 1655 as an apartment for two foreign priests who came to China during Emperor Shunzhi's reign in the Qing Dynasty. In its history of more than 300 years, it was destroyed several times by either earthquakes or wars. In 1904, it was rebuilt, and in 1980, it was reopened to Catholics. It has Romanesque-style architecture and is one of the best-preserved religious sites in the heart of Beijing.