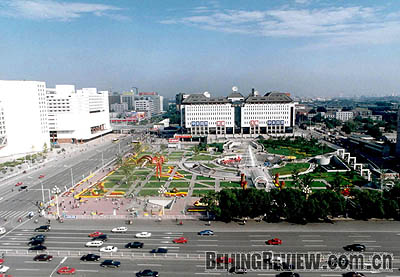 About 2 km west of Tiananmen Square is Xidan Street, one of the most famous commercial areas in Beijing and once the home of temples and entertainment venues.
Xidan was a burgeoning commercial area as early as the Ming Dynasty (1368-1644). At that time, businessmen, travelers and traders from southwest China used to stop in Xidan before heading for other parts of Beijing. They fuelled a boom in shops, markets, street peddlers and restaurants in the area. From that, over the course of a century, the modern bustling commercial center of today grew.
Famous shops line Xidan Street, some with a history of hundreds of years. For example, Tianfuhao Stewed Pig Leg Store opened in 1738 and Tianyuan Pickled Vegetables in 1869. In the early 1930s, Xidan Grocery Market was opened; in the 1940s, Wanli Shoe Store and Yuanchanghou Tea House were inaugurated; and in 1939, Shengxifu Hat Corp., known as King of Hats in China, moved to Beijing.
In 1929, the prototype of Beijing Xidan Market, one of the oldest, largest and most famous department stores in China was born. It sold household wares, snacks, old books, and imported goods. The market also staged a variety of shows including story telling, juggling, games and operas.
Nowadays, old shops coexist alongside new ones in Xidan. It is also an entertainment center. In the 1930s, several theaters were built there. Last year, Xidan was ranked by netizens as the third most romantic place in Beijing. The area attracts many young people, out to have fun and take advantage of the reasonable prices.
In the northeast corner of Xidan crossroad is Xidan Culture Plaza, a quiet oasis in the boisterous commercial area. Built on August 28, 1999, the plaza occupies an area of 1.5 hectares, with a gross floor area of 35,000 square meters. The plaza has a ground level and two underground levels. The ground level is covered with green grass. At the center of the ground level is a glass pyramid, which allows sunlight into the underground levels. The underground levels are divided into business and recreation sections. There are also shops, eateries, cinemas, a swimming pool, an artificial ice-skating rink and a squash court, all with easy access to the subway.
Next to Xidan Culture Plaza is Beijing Book Building, the largest retail bookstore in China. In the vicinity of Xidan Book Building is Beijing Concert Hall, the first of its kind in China. To promote classical music to the public, a host of music performances and lectures for amateurs are held there from time to time. The hall serves multiple purposes. From the second floor to the fourth floor is an art gallery, where masterpieces of famous Chinese and foreign painters are exhibited periodically.