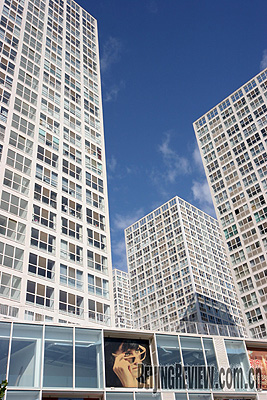 SOHO COOL: Tower blocks near Jianguomen, one of Beijing's trendiest neighborhoods
Jianguomen in Beijing's Chaoyang District is a major transportation hub. The name of Jianguomen translates into "founding-the-nation gate," but there was never in fact a gate at all.
Walking out of Jianguomen subway station, one of the first things a person sees is the "rainbow bridge," which divides Jianguomen Street into Jianguomen Inner Street and Outer Street. In Jianguomen Inner Street, as well as many office buildings and shopping malls, there are also some places that show the flavor of old Beijing, including Chang'an Grand Theater and Donglaishun Restaurant.
Jianguomen Outer Street starts from the rainbow bridge to the west and ends at Dabeiyao to the east. In the 1950s, the earliest embassy area and the first diplomatic apartment building were set up here. After that, a growing number of western style buildings went up, including shopping malls and restaurants aimed at the foreign audience.
In 1973, the first shop for foreigners-the Friendship Store-was moved from Wangfujing to Jianguomen Outer Street. It sold imported goods that were rare in other parts of Beijing and dealt mainly in foreign currencies.
In the same year, the International Club, which was built in 1911, was moved from Taijichang Street to Jianguomen Outer Street.
The first joint venture hotel-Beijing Jianguo Hotel-and the first rental office building-the International Building-were built on Jianguomen Outer Street in 1982 and 1985 respectively. In the early of 1980s, many buildings, including the World Trade Center and Scitech Plaza, were constructed, creating a bustling and prosperous atmosphere. One of Beijing's most trendy building complexes-Jianwai SOHO-renowned as "the most fashionable life showcase," is even named after Jianguomen Outer Street, known as Jianwai for short.
Due to its unique location, Jianguomen Outer Street is a gathering place for foreigners. Many restaurants with foreign flavors are settled here and cater to guests from all over the world.
In the last 20 years, many foreign tourists have visited Xiushui Street, which is located to the east of the Friendship Store. Xiushui Street is an open market for clothes and other groceries with several hundred stalls. It was opened in 1980 and occupies more than 1,500 square meters.
In 2005, a new six-floor building called New Xiushui Street Building was built on the east side of the old Xiushui Street. Many time-honored shops such as Ruifuxiang, which is famous for its silk, set up in the new building.