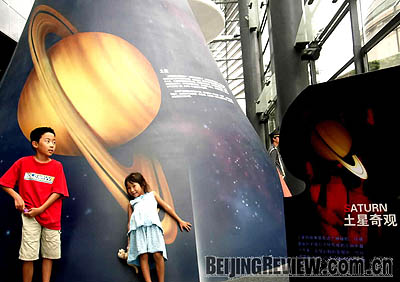 VIVID DISPLAY: Two children take a break in front of a 3D image of Saturn in the Beijing Planetarium, a popular place for tourists
Astronomy was close to the heart of ancient China. By 2300 B.C., ancient Chinese astrologers already had sophisticated observatory buildings, which they used for forecasting the health and success of future emperors.
An astronomer named Jamaluddin built the world's first planetarium during the Yuan Dynasty (1279-1368). Today the Beijing Planetarium is a popular place for Chinese and foreign tourists to visit.
Located on the south of Xizhimen Dajie, close to the Beijing Zoo, it was founded on September 29, 1957, and was China's first large-scale planetarium. More than 50 years ago, there was a program called "Travel to the Universe" in the observatory hall of the planetarium, which could accommodate 600 people.
"We did not have computers at that time," said 83-year-old Li Yuan, the first guide at the Beijing Planetarium. They used optical projectors to produce the effects of the sky, the constellations, the solar system, the Milky Way, comets, meteors and other wonderful phenomena. "This program has been on show for 30 to 40 years, and about 10 million people have watched the program," he added.
In 1949, Li was elected director of Chinese Astronomical Society and editor in chief of the magazine Public Astronomy. He published many articles advocating the establishment of a planetarium and other astronomers supported his suggestion. In 1998, an asteroid with the international code number 6741 was discovered by Japanese astronomers and was named Li Yuan asteroid with the approval of the International Astronomical Union.
The Beijing Planetarium is now divided into two parts: the old planetarium and a new building. The old planetarium occupies 7,000 square meters and has a China-made large-scale planetarium in the center of its observatory hall. The complete performance system can display many fantastic scenes and is operated four to five times a day. On the west side of the planetarium is a 130-mm refracting telescope, which scientists have used to collect data on sunspots.
The new building, which occupies 20,000 square meters, was completed in 2004. The rooms that are open to the public include a digital space, a theater, a 3D theater, a 4D theater, an exhibition hall, a solar observatory and a public observatory.
The digital space theater introduces advanced international super graphic workstations (supercomputer for graphic and image processing). It can handle the data, modeling, and accurate positioning of 1 billion stars, and together with laser projection equipment, it provides audiences with a vivid virtual universe trip.
There are two observatories at the top of the new building: One is a solar observatory with a solar vacuum telescope and the other is a public observatory used mainly for night observation.