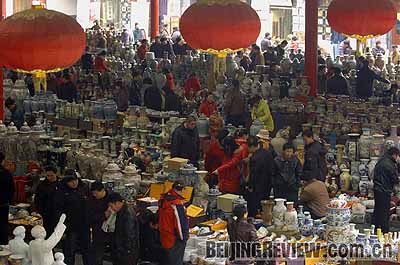 Panjiayuan Antique Market in Beijing has a daily customer flow of over 60,000, including nearly 10,000 foreigners
Located in the southwestern part of Chaoyang District in Beijing, Panjiayuan is so well known among tourists that its name has become synonymous with antiques.
Covering an area of 48,500 square meters, the size of seven football pitches, Panjiayuan Antique Market's most common commodities include curios, handmade works of art, jewelry, ancient coins, calligraphy and painting, old books, vintage instruments, furniture and ethnic clothing. "Cultural revolution" (1966-76) antiques, such as badges of Chairman Mao Zedong's portrait, are particularly popular.
Listed among China's top 10 antique markets in a 2004 survey, Panjiayuan is divided into six areas featuring curio stands, ancient architecture, antique furniture, modern collections, stone sculpture and dietary services. It has nearly 4,000 shops manned by around 10,000 people, 60 percent of whom come from nearly 30 provinces, municipalities and autonomous regions other than Beijing. They speak Mandarin and other Chinese dialects, and many of them can speak some English, Russian and Japanese, which helps to negotiate prices with foreign customers. Works of art and curios come from all corners of the country to Panjiayuan, where they are sold to people from across the world.
The market only opens at the weekend, from 7 a.m. to 5 p.m. It is so popular and crowded that it often takes time for the waves of visitors to recede after closing time. Statistics show that the daily visitors to the weekend stands number between 60,000 and 70,000 and nearly 10,000 are foreigners, including visiting state heads and celebrities. Bora Milutinovic, a football coach who took the Chinese squad to its only appearance at the World Cup finals, shopped at Panjiayuan during his tenure with the team. Panjiayuan has a history of selling antiques. At the end of the Qing Dynasty (1644-1911), the families of high officials of the resigned emperor's court had to sell antiques to make ends meet. Since selling their belongings would cause a loss of face they usually chose to conduct the trade at around 3 a.m. in the street at Panjiayuan.
Until the early 1990s, Panjiayuan was only a "local" marketplace. In 1992, residents in the neighborhood started to hawk old clocks, porcelain and antique furniture from their own homes beside the sidewalk. As business grew, vendors from other areas joined the market, setting up their own stands. By 1994, the number of stands had reached over 1,000, and there were traffic jams as traders and customers tried to reach the area. In reaction to this the local government built Panjiayuan Antique Market in 1995.
Now, with the market's soaring popularity, stall rental prices have begun to rise. A 1.5-square-meter stand is now priced at a daily rent of 200 yuan ($28.6).
To increase parking spaces, a five-story car park and a 3,500-square-meter outdoor parking lot were built recently to serve the market. This should cope with the floods of tourists expected during the Olympic Games.
Other services for the Olympic tourists include newly installed LED screens, which will broadcast the Games live and point of sale machines that enable customers to pay with credit cards.