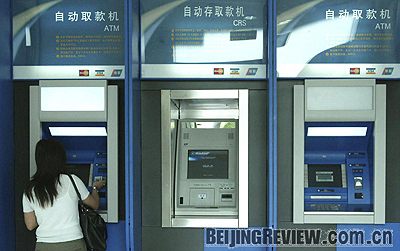 BANK BACK-UP: While major transactions are not possible when banks shut for national holidays, ATMs provide a service for day-to-day money needs in China
"Mr. Yang, over the weeklong Chinese holiday I went to the bank to change money and then to wire some of it home, but all the offices were closed for an entire week! That really shocks me. How on earth can China expect to enter the world economy if banks close down for days on end?" I said, snorting in disgust.
"You must understand that the provinces do not operate in the same way as major cities like Shanghai or Beijing. When my country celebrates its most important holiday and Chinese people go home to rest with their families, they don't need to do any major banking at this time. Plus you can get money from an ATM any time. Besides, if the workers had been on duty, the bank must have had to pay them more, so they shut down to save money."
"But banks will lose international connections if they shut themselves off from the world for a week. I couldn't believe it, not a single branch in town was open; I couldn't do any business," I replied and leaned back on the thick old sofa. Mr. Yang and I were sitting at the Bright Moon coffee shop, where they quietly served excellent pressed coffee. "Yum, smell that? It is our coffee being made. I can't wait."
"Your business needs are too minor for a bank to stay open," said Mr. Yang. "This place looks too expensive for me. I am happy you're treating." He twisted his long thin fingers and looked at me anxiously.
Mr. Yang delicately sipped at his cappucino. "It's bitter but so is my life," he remarked, putting down the cup and looking out the window.
"What's the matter?" I asked. "We agreed to meet and have a good time before I leave town but you're pulling a long face. What is your problem?" I asked, half jokingly, half seriously.
"I must make a confession. Last year I put money in the stock market; I've just learned that I lost it all. What will I tell my wife? My attempts at joining in the reforms and getting rich have all failed," he replied, glancing at me quickly and looking away.
For a few minutes I couldn't think of anything adequate to say because I, too, had recently lost a significant amount of money-but in the U.S. stock market. Chinese or American, socialist or capitalist, stock markets are always going to involve risk and, because of the Internet and world trading practices, many financial transactions today are interdependent.
Yet China's banking systems, for various financial and political reasons, do not operate by the same rules as Western banks.
One reason centers around the fact that China's impressive economic growth and development is not yet fully developed. The current transition phase contains systematic inadequacies--a clear dichotomy exists between capitalist and communist monetary philosophies. For example, the Chinese banking system often encourages companies to carry on producing when profit margins are low or non-existent. In contrast to the United States, Chinese banks are highly liquid because citizens save up to 40 percent of their earnings and keep them in the bank. Officials have uncommon access rights to loan out money.
Some Chinese bankers feel that a domino effect would be triggered if loans were called in: other companies would go under, unemployment would rise, and company suppliers would go out of business. Consumer spending would then drop, and social unrest would rise. For these reasons Chinese banks wait and/or do nothing, while U.S. banks operating in normal market economies would call in loans and/or cause enterprises to file for bankruptcy.
Moreover, Western companies can't keep selling below cost for years and years, but Chinese companies with huge loans do. Banks encourage oversupplies while firms seek diversification, because in China expansion equates with increasing scale and reducing unit costs. In effect, profits and losses are calculated differently.
Large Fortune 500 companies have been flocking to China despite the banking differences. The marriage of cheap labor with modern factories and technology makes outsourcing profitable for their shareholders. This helps fuel further urbanization throughout China. The massive differences in living and cultural standards between rural and urban areas have created a kind of time-warp effect that has boosted China's economic rise due to the cost-of-living differentials.
Thinking about this, I said, "Mr. Yang, although you've lost some money, you live in the provinces. Your money buys more there in terms of food, shelter and luxury goods, so what you lost is not as much as what you would have lost if you were a Beijing resident."
"I guess you could look at it that way," Mr. Yang answered slowly. He sipped his coffee thoughtfully and added, "You're a clever girl. Please tell me how I'm going to explain it to my wife."
The author is an American living and working in Beijing