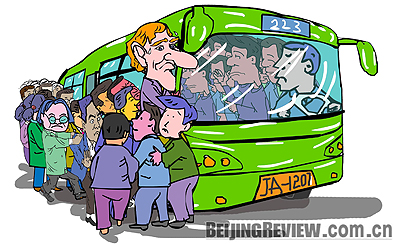 There are certain mysteries in life that scientists will never understand and be able to explain to us in their weird ineffable language. Missing socks in the laundry, for one. Women's moods, for another. The strange bond between men and dogs. And how about the expanding universe and what it is shifting into? Or the way my nephew charges around making strange noises in his own little world. All are completely unfathomable and inexplicable. Another, I have discovered, is buses. The old adage--in England, at least--is that you wait ages for one, and then three come along at once. In Beijing this isn't quite the case. The transport system here is quite impressive. I only ever seem to wait for a few minutes before a bus arrives. Nice. If Britain could run transport so punctually, more people might give up their cars. It is also cheap here. Again, in London a single ride on the "Tube" costs nearly $10. Better start saving for the 2012 Olympics now, the site is miles from the capital.
The bus mystery I wish to expound upon is why my route seems less served than others.
The 104 travels regularly, with half empty buses, coming in packs of two or three with punctual efficiency, always with a smiling driver and charming conductor, pulling in to stop gracefully. "After you madam," "No, kind sir, I insist you go first." Often they are the concertina double-carriage bus with serenely sleeping passengers and, I'm sure, soft lulling music playing. Great. I look upon them with yearning. After perhaps the third 104 pulls away, the 103 arrives. My heart skips a beat and my blood starts to boil. It's packed tight, the driver sneers to the kerb with impatient disdain, usually smashing over a few plant pots and crushing a few feet. The queue transforms into a shark-feeding frenzy: Passengers with bulging sacks of merchandise elbow their way past invalids; little old ladies snarl at little old men; sweet young Chinese girls out muscle their way past me. Initially, I would yield politely; allowing others to go first, before thinking the bus was too full and waiting for the next. After all, buses here are as regular as Chinese dietary habits. Within a minute or two (after several more celestial 104 carriages glide by), the next 103 appears, and suddenly behind me a queue has come out of nowhere, and more suddenly the queue has become a maelstrom, and I am in its midst, swarmed into the bus wondering if my limbs are on board as my neck grazes against another's scalp and my nose explores an armpit.
It is of necessity that I take the 103, as the train station is a fair walk from my home for my early morning bones. As cheap and frequent as both forms of transport are, journeys can often result in a tense affair. My colleague from Britain refuses to take public transport, settling for his bicycle or taxi. Always. He seems less stressed than me. Hmmm…
A taxi to work is out of the question for me. Where the traffic jostles and edges like prowling wild animals, the bus, I feel, triumphs. It's bigger, uglier, and noisier. It wields the colossal power of an elephant. Sometimes I brave the subway, often just to experience some close human contact because, perversely, I like to feel as if I'm part of a cattle herd. But the bus cuts the mustard. Often I poke an eye through the bits of bodies on board and scoff at the air-conditioned cabs. Imagine having to squirm in all that space on the back seat, low down besides the invading trample of the buses tires.
I traveled on the subway on the first day of issue of the new tickets and the opening of the corresponding machines. It was a public holiday so perhaps there was less manic hustle than usual--but it was rather amusing to see the typically hyper rat race approaching the new barriers cautiously, me included. The things look like they pack a punch if they ever malfunction. Nevertheless, it's good to see improvements made to the transport system here. An improvement in British rail networks means a train has arrived on time, or a seat has not been vandalized.
Now we just need the new subway lines to open that are printed on the back of the fancy new tickets. That might go someway to alleviate the free-for-all rugby scrum of the daily 103 passage to work.
The writer is British and lives and works in Beijing