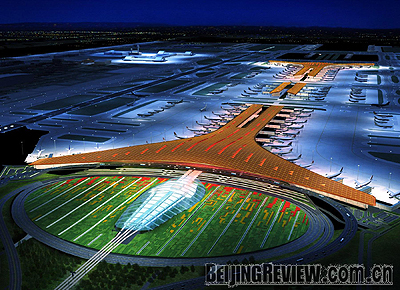 Sir Norman Foster's architecture firm, in conjunction with the Beijing Institute of Architectural Design and Research, recently finished the dazzling, ultra-modern Terminal 3 at the Beijing Capital International Airport. This structure certainly amazes and comforts weary travelers. Over the past 35 years, Foster, an English architect who promotes a "green agenda," has incorporated innovation with social responsibility, designing unusual museums, banks, airports, bridges, apartment buildings-and even a pyramid structure in Kazakhstan. His ideas have dramatically changed the character of cities around the world; Beijing is no exception.
Foster has a common philosophy that connects all of his work: He's interested in being socially responsive and making use of natural resources. He's taken on massive projects such as Terminal 3 and created the world's most advanced airport. Ever since the new terminal opened on March 26, 2008, it has awed Chinese and foreigners alike. Shaped like a dragon, the entire space has an aerodynamic feel that celebrates both the joy of flight and bequeaths a Chinese sense of place by utilizing traditional Chinese colors and symbols.
But Beijing holds many layers of Chinese structures that visitors walk by without ever realizing their significance to Chinese culture. In fact, Beijing has undergone many names and transformations ever since the Mongols established the Yuan Dynasty in 1271-with "Dadu" as their capital. The Mongol emperor Kublai Khan created the city plan by placing four gates to guard the four directions leading into his royal residence. When Ming troops overran it in 1368, they renamed the city Beiping (northern peace), keeping Nanjing (south capital) as their capital while building walls, reconstructing palace buildings and gardens in Beiping. In 1421 Beiping became Beijing-the northern Ming capital. Later, rulers of the Manchu's Qing Dynasty (1644-1911) added extensive gardens and the Summer Palace. After 1949, Chairman Mao Zedong altered the ancient architectural fabric of Beijing. Tiananmen Square is his creation. Under Mao's leadership, workers demolished almost all of the city's ancient walls and some centuries-old buildings, replacing them with massive structures such as the Great Hall of the People and the Museum of Chinese History.
In recent years even more demolition has taken place. Old hutongs (alleyway neighborhoods) have been torn down to give way to high rises. "I've lived in Beijing all my life," wheezed Mr. Wu, a frail grandfather tottering on a cane in Sanlitun, Beijing's bar district. "Everything's being torn down and rebuilt; I can't recognize some of my old haunts. Why are we doing this wholesale destruction? It's like a modern revolution."
Underground Beijing is also changing fast. Just as the Olympics gave Athens 2004 reason to end unsightly urban sprawl, the Beijing Olympics has benefited locals by implementing a rash of new subway stops and extensions. A line that goes directly to the airport opened in July. "It's magnificent, all this renovation. The city is really changing, upgrading and looking good," said Keithas Stockland, an English consultant for Chinese airlines who has lived and worked in Beijing for almost 10 years.
"We want tourists to see Beijing shine, not look at poor people and see shameful living conditions," said a young Beijinger who identified herself as Kitty. "And an amazing transformation is going on here. I don't go to trashy TV karaoke bars anymore: I go to classy clubs like LAN or Studio 8." She patted her expensive hairdo carefully and then entered a newly opened subway station.
In general, Beijing's younger generation welcomes all these alterations and many foreigners accept them without knowing anything about the city's history. Perhaps only traces of old Beijing may remain, for example, pairs of stone lions standing guard in front of the gates of palace halls and old government buildings. How many know that the male playing with his ball symbolizes national unity, while the cub below the female represents fecundity for the people of China? Who takes note of those huge old red doors with golden studs? Who knows that the ones on the Gates of the Forbidden City are brass and plated with gold? Gates used by emperors are patterned with 9 x 9 studs-nine symbolizing the emperor's supremacy. Ancient palaces usually had nine courtyards. That glazed screen wall (yingbi) north of the lake in Beijing's Beihai Park has nine imperial dragons carved on it. Such ancient walls date back more than 3,000 years because only royals and nobles and religious temples could construct them.
Will all this architecture and history be brushed aside as Beijing evolves and keeps doing extreme makeovers? Certainly the city's modern skyscrapers and edifices are remarkable and eye-catching; certainly China's green agenda promotes environmental sustainability. But Chinese culture, especially ancient Chinese architecture, displays an entrancing aesthetic well worth preserving for local and visitor alike.
The author is an American livng and working in Beijing