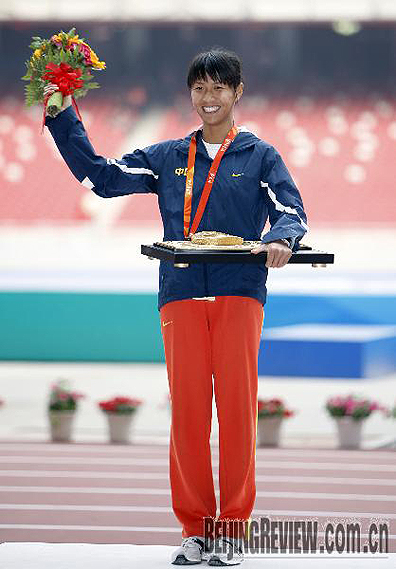 Origin
Athletics, or track and field, is the original Olympic sport. The first event contested in the ancient Olympics was the stade race, a sprint of about 192 metres. Recorded victors in this event are known as far back as 776 BC. Other athletics events in the ancient Olympics included longer foot races, a race in armour, and a pentathlon event that consisted of the stade race, long jump, discus throw, javelin throw and wrestling. Similar events were held in ancient Greece at the Isthmian, Nemean and Pythian Games.
Throughout recorded sports history, athletics has always been practised. Many of the attempted revivals of the Olympics in the 19th century consisted mostly of athletics contests. In Europe, local fairs and festivals often included running, jumping and throwing events. In Ireland and Scotland, these developed into organised sets of Tailteann and Highland Games, respectively.
(BOCOG)
Preview for Team China
China's largest athletics team to date will contest the Beijing Games with superstar hurdler Liu Xiang inarguably its biggest gold medal chance.
Marathon runner Zhou Chunxiu is another genuine medal prospect for the women.
The silver medallist at the 2007 Osaka World Championships carries China's long-distance running hopes.
Women's hammer thrower Zhang Wenxiu is also a strong contender, especially after the World Championship bronze medallist's string of recent strong performances.
(China Daily August 1, 2008)