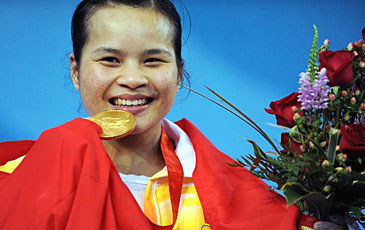 At midday of August 9, 2008, Chen Xiexia of China won the women's 48kg weightlifting title, the first gold medal for the host at the Beijing Olympic Games.
"It was my responsibility to take gold medal," Chen told Beijing Review after the award ceremony. "I had no pressure on home soil. All I wanted to do was to compete as best as I could."
In fact, Chen's "responsibility" came from the records that China's national women weightlifting team made at previous world championships--they claimed 17 (10 in a row in the recent decade) out of 19 titles in the women's 48kg category. Unfortunately, however, the team's best result at the Olympics was as runner-up. An Olympic gold seems to be a longtime dream for the team, especially for the gold hopeful Chen, who ranked the world No.1 after winning the title at the 2007 World Weightlifting Championships.
"Chen did not have too much experience in competing at international events, but her mental quality is quite good. We [The team] won't miss the gold this time as long as Chen can maintain a stable condition, as she did in daily training sessions," said Ma Wenguang, President of the Chinese Weightlifting Association (CWA) and director of the Weightlifting, Wrestling and Judo Administrative Center under the General Administration of Sports of China, before the final competition started.
Chen's schedule was rearranged to cater for the competition time, said Ma Wenhui, her head coach. "The preparation work was in full swing. Take Chen's competition schedule as an example. We detailed shuttle bus timetable between the Olympic village and the venue as well as the time for bodyweight measuring to make sure she was in good condition."
Chen totaled a winning mark of 212 kg, a new Olympic record up from 210 kg. The silver medal was taken by Sibel Ozkan of Turkey at 199 kg and Chen Wei-Ling of Chinese Taipei settled for the bronze at 196 kg.
"Today is my birthday. Her gold medal is the best birthday gift for me," said director Ma, elder brother of Chen's coach Ma, with a big smile.
Chen kept a low profile after winning the first gold for the Chinese delegation. "To me, there is no big difference between the first gold medal or the last," Chen told Beijing Review. Her view was echoed by her parents who are living in south China's Guangdong Province. "We were very excited to see her performance. But life goes on. I will do farm work as usual," said Chen's mother Liang Jinhui.
"The training is by no means an easy job," said Chen, "but I won't describe it as hard or a sort of suffering, because it's my own choice."