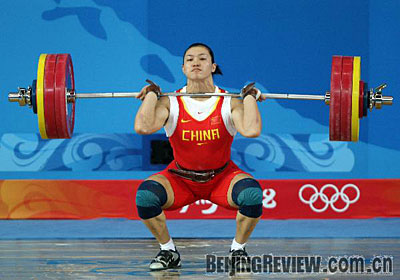 Cao Lei of China during the competition
Cao Lei claimed the title in women's 75kg category weightlifting on Friday, winning China its seventh weightlifting gold at the Beijing Olympics.
It's the first time Chinese lifter won gold in this category at the Olympics.
Cao, 24, totaled 282kg, 16kg more than the achievement of silver medalist Alla Vazhenina of Kazakhstan.
Cao, two-time world champion, dominated the game as she snatched 128kg, and lifted 154kg in clean and jerk, breaking three Olympic records.
She tried to break the total world record of 286kg in her third jerk attempt, by ordering 159kg, but failed. She bowed to the spectators and hugged with her coach Ma Wenhui.
Vazhenina snatched 119kg, and jerked 147kg.
The bronze went to Nadezda Evstyukhina of Russia, who totaled 264kg.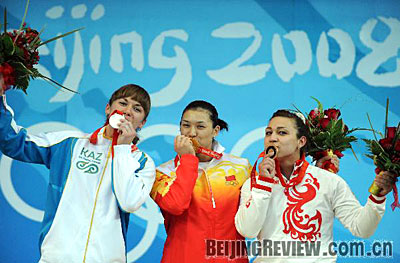 (L-R) Silver medallist Alla Vazhenina of Kazakhstan, gold medallist Cao Lei of China, and bronze medallist Nadezda Evstyukhina of Russia kiss their medals at the award ceremony
(Xinhua News Agency August 15, 2008)