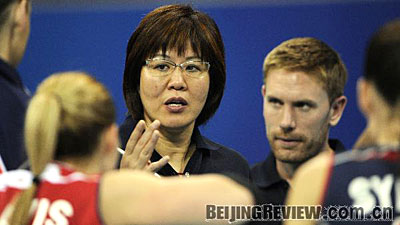 American head coach Lang Ping
The United States twice rallied from one set down to beat the World Cup winner Italy in a full-set quarterfinal to reach the semifinals of women's volleyball at the Beijing Olympic Games on Tuesday.
The U.S. needed two hours to claim their first win in six meetings against Italy since 2004, prevailing through at 20-25, 25-21, 19-25, 25-18, 15-6 and will meet Cuba in the semifinals on Thursday.
"I felt very happy with the result, they can always bring me surprise. I am so proud of them," American head coach Lang Ping, a former Chinese player, said after the match.
In the other semifinal, host China will take on Brazil.
(Xinhua News Agency August 19, 2008)