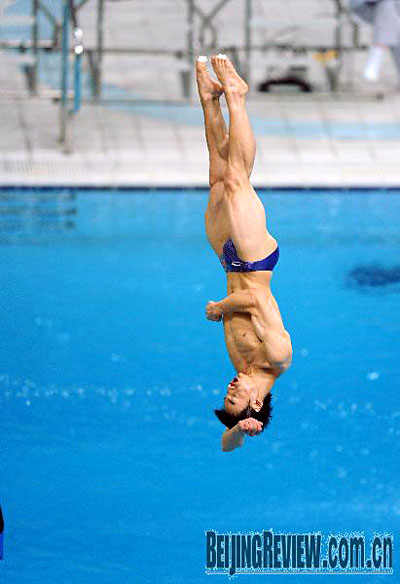 He Chong during the competition
China has swept the sixth diving gold at the Beijing Olympic Games on Tuesday as He Chong claimed the men's 3m springboard title.
He, 21, currently ranked No. 1 of the event in the world, led all the way to collect 572.90 points.
Alexandre Despatie of Canada, silver medallist of the event at the 2004 Athens Olympics, took the silver again in 536.65. The bronze went to Qin Kai of China in 530.10.
"I performed steady during the final," said He, who is famed for commanding a set of difficult dives. "I has trained hard for four years and now I proved myself."
"I was very excited in the final," said the 21-year-old, who also won the gold in the event in the 2008 World Cup on February. "But I kept telling myself to be calm."
Russian "diving czar" Dmitry Sautin, who claimed a silver in the synchro springboard, finished the fourth in 512.65. Sautin make an almost perfect dive in the last round as his last dive in Olympics, which scored 99.75, the highest in his six dives and also the second in the round. Beijing Olympic Games is the fifth Olympic Games Sautin participated, and also his last.
China expects to make a clean sweep in the Water Cube on home soil. They swept all eight golds in the last meet of the FINA Diving Grand Prix in Rome earlier in July.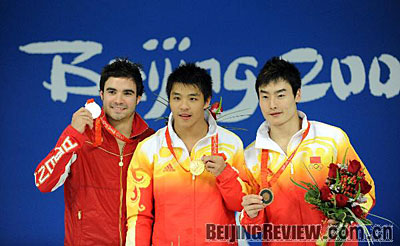 (L-R) Silver medallist Alexandre Despatie of Canada, gold medallist He Chong of China, and bronze medallist Qin Kai of China at the award ceremony
(Xinhua News Agency August 19, 2008)