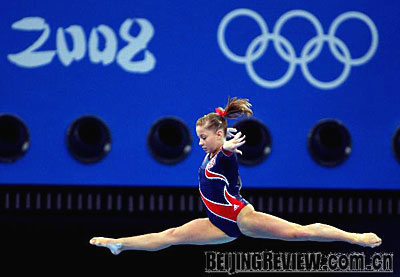 Shawn Johnson of the United States won the beam title at the Beijing Olympic Games on Tuesday.
The 16-year-old Olympic rookie took the gold in 16.225 points, followed by her compatriot Nastia Liukin in 16.025. Cheng Fei of China settled for the bronze in 15.950.
Johnson, winner of three gold medals in last year's world championships, sailed to her first Olympic gold with smooth tumbling and twists and a solid landing.
Reigning beam world champion Liukin presented a flawless routine but her difficulty value of 6.6 points, 0.4 points lower than Johnson's, earned her a second place.
"I am so proud because it (beam) is my favorite apparatus. I gave my heart and soul and I did my best routine today. I worked so long for this, " said Johnson after the competition.
"It's the perfect ending to my Olympic experience," she said. Before the beam gold, she had already pocketed three silver medals, one for all-around, one for floor exercise, and another for team event.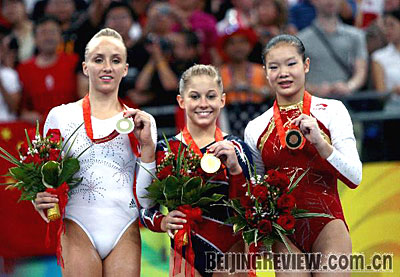 (L-R) Silver medallist Nastia Liukin of the U.S., gold medallist Shawn Johnson of the U.S., and bronze medallist Cheng Fei of China at the award ceremony
(Xinhua News Agency August 19, 2008)