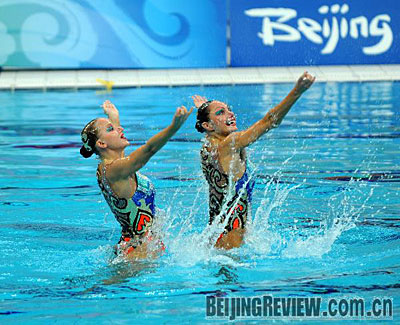 Anastasia Davydova and Anastasia Ermakova of Russia during the competition
Russian synchronized swimming pair Anastasia Davydova and Anastasia Ermakova retained the Olympic duet title with a near-perfect performance at the Beijing Olympic Games on Wednesday.
The Russian pair scissor-kicked their way to a lively piece of Norwegian play music in the free routine final, scoring eight full 10 marks and two 9.9 points. They carried a top score of 49.334 points from Monday's technical routine to total 99.251 points.
Gemma Mengual and Andrea Fuentes of Spain won the silver with 98.334 points, and Japanese duo Saho Harada and Emiko Suzuki took the bronze with 97.167 points. Chinese twins Jiang Tingting and Jiang Wenwen finished fourth with 96.334 points.
(Xinhua News Agency August 20, 2008)