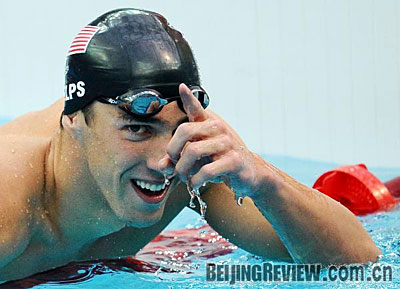 After winning his sixth gold medal at the Beijing Olympics with a world record swim in the 200 meters individual medley in 1 minute 54.23 seconds, Michael Phelps read a text message from his friend to the press conference, "It is ridiculous how many times a day I have to see your ugly face on TV."
Nobody would really blame this 23-year-old star swimmer for stealing the show in Olympic coverage. When Phelps won a history-making eighth gold medal in Beijing on August 17, spectators in the National Aquatics Center, also known as the Water Cube, cheered him on. That win gave him more Olympic gold medals at one Olympics than anyone in history, taking him past fellow swimmer Mark Spitz's seven-gold victory at the 1972 Munich Olympics.
Phelps was without doubt the busiest swimmer at the Olympics. In the nine days since August 9, he swam in 20 races, the closest less than half an hour apart.
This busy schedule did not stop Phelps from breaking seven world records in Beijing. Phelps made clear his quest to break Spitz's record of seven gold medals at the Athens Olympics, but failed, only winning six. Phelps' altogether 14 Olympic gold medals have caused debate over whether he is the greatest athlete in Olympic history.
The golden boy's longtime coach Bob Bowman said that nothing could stop Phelps from creating miracles at the Water Cube. However, Phelps' epic journey was not without setbacks. Half way through the 200 meters butterfly, his swimming goggles were filled with water due to a problem with them, which left him unable to see clearly for the last 100 meters. Phelps said to calculate how far he was from the end of the pool, in order to turn at the right moment, he had to count strokes and pray he didn't miscalculate.
On the morning of August 16, in the final of 100 meters butterfly and Phelps' 17th race in Beijing, he failed to keep pace with the race leader. After the first 50 meters, Phelps ranked seventh among the eight finalists. Yet eventually he managed to beat his closest rival by a narrow margin of 0.01 of a second.
After winning his eighth medal, Phelps emphasized the importance of his teammates. He said he would not have achieved the feat without their help.
Body shape
Phelps is naturally built to be a good swimmer. Besides his inverted pyramid body structure, his legs are disproportionately short to his body. Unusually, he also has a 6 feet 7 inches arm span that is greater than his 6 feet 4 inches in height. His long arms help to propel him through the water and also give him the advantage of touching the end of the pool earlier.
Scientists from the University of Washington said that Phelps' enormous feet are like huge paddles that drive him forward, which could minimize the water resistance he receives.
"He has enormous lung capacity of 15 liters, which enables him to stay under water longer. The content of lactic acid in his body is only half the level of a normal person," said Luo Xuejuan, a retired Chinese Olympic gold medal-winning swimmer.
After Phelps broke the world record in the 200 meters butterfly at the 2003 World Aquatics Championships in Barcelona, his blood test showed that the content of lactic acid in his blood was 5.6 millimoles per liter, about one third to half the level of most top swimmers. Lactic acid is the reason muscles become fatigued. That means that when other people take an hour to recover from a race, Phelps needs only 20 to 30 minutes. This is why can he can compete in up to eight events in one Olympics.
Phelps eats and drinks about 4,000 calories every day, which is twice the level for a normal male adult. One staff member at the Olympic Village said that he once saw Phelps eating eight eggs in a row at breakfast.
Phelps said he had always had a bigger-than-average appetite since he was a kid and would love to taste Chinese cuisine, as he likes to try new things.
Phelps' Olympic dreams have seen him through harsh training. He said he was woken by his alarm clock at half past five on countless mornings when he really hated getting up, but the thought of Athens and Beijing would drag him out of bed to the swimming pool.
Phelps competed at the 2000 Sydney Olympics at the age of 15, becoming the youngest American male swimmer at an Olympic Games in 68 years. When he returned to school, he noticed that few of his schoolmates realised he had been competing in the Olympics. Even close friends only asked him whether he had seen koala bears and kangaroos, and nobody asked about his results, which he said, made him upset. He cannot even remember his last celebration for Thanksgiving, Christmas or New Year as he has spent so many holidays in the swimming pool.
Strong mother and musical coach
The road to glory was not easy for Phelps despite his talent and natural advantages. ''Michael worked really hard, every day,'' his mother Deborah Phelps said in an interview at the Athens Olympics. ''Christmas morning was going to the pool before it was Christmas. Every day it was out of the house, get in the car, get him to the pool. After that, the pressure doesn't affect Michael.''
If Phelps Olympic feat was a miracle, his mother had a hand in creating it. At the age of nine, Phelps was diagnosed with ADHD, attention deficit hyperactivity disorder. His mother soon discovered that only the swimming pool could make her son calm down.
When Phelps reached 11, his mother stopped his medication against a doctor's suggestion. She said surprisingly Phelps could stay totally focused during a race, although once out of the swimming pool, he showed his energetic and naughty side.
Phelps' mother cheered him on at every match, but said the swimming pool is like her son's office and she would not disturb him before matches. Phelps would try to spot his mother in the crowd once he face was out of water.
In Beijing, Phelps often mentioned his long time coach Bowman, who spotted the gifted swimmer when he was 10.
Phelps said he was very luck to have Bowman as his coach. Bowman created tailor made training plans for Phelps, who thought the intimate relationship between his coach and him was more like friends or a father and son.
Being the chief executive officer of North Baltimore Aquatic Club, Bowman was trained to be a pianist and composer when he was young. With a degree in psychology, Bowman combined his two hobbies, music and swimming, in coaching swimmers, especially in training them rhythm in strokes.
Bowman also took advantage of his psychological knowledge to adjust Phelps' mood. Phelps said that Bowman was able to turn all his bad and good moods into the driving force in matches.
Relate story: Phelps' Road to Eight Golds