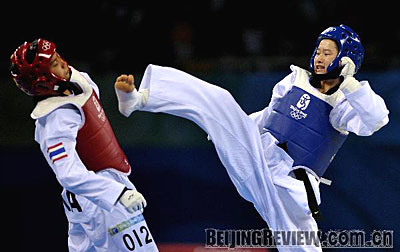 Wu Jingyu (in blue) during the competition
China's Wu Jingyu claimed title in the women's 49kg category taekwondo at the Beijing Olympic Games, beating Buttree Puedpong of Thailand 1- (-1).
It's the first time for China to win this class since the taekwondo events were included into Olympic programs at the Sydney Games.
"I have been waiting for this day for a long time," said Wu afterwards.
With the deafening cheerings from home fans, Wu launched aggressive attacks as soon as the final began and scored one point with a side kick and made the opponent get a warning penalty.
She took the lead into round 2, and in the third round, her furious attacks made Buttree almost give up counterattacks, which led to another warning penalty and finally an one-point reduction.
The responsive fans made countdowns in the last six seconds and roared to the newly-crowned who burst into tears.
"I'm very excited now," she said, adding that she stayed calm in every match she competed today.
The 21-year-old won the preliminary round and quarterfinals both with a seven-point advantage. She stepped into an intense competition with old rival Yang Shu-chun of Chinese Taipei, who beat her at the Asian championships in April.
Although Wu took a two-point lead from the beginning as she successfully loaded an axe kick on Yang's head, Yang kept making defensive kicks and managed to get one point in the second round. However, Yang failed to score more points in rest of the game and was defeated by Wu with 1-4.
"It's not that difficult as I had imagined," Wu said.
She said the fact that she was defeated by Yang didn't cast shadow on her.
"I haven't been afraid of any opponent and the only thing in my mind was to beat her," she said.
With the victory against Yang, it seemed the final is not a big deal for her.
By winning the silver, Buttree, 18, made a breakthrough in Thailand's Olympic history of taekwondo events as the country's past best achievement was Yaowapa Boorapolchai's bronze at the Athens Games.
"I will continue to practise Taekwondo and improve in order to be better at the next Olympic Games," Buttree said.
Yang Shu-chun lost her last opportunity to get a bronze as she lost the repechage game to Cuban Daynellis Montejo, who settled for the bronze together with Dalia Contreras Rivero of Venezuela.
Yang cried after losing the match and still couldn't hold her tears in the mixed zone. In the men's 58kg event, her boyfriend Chu Mu-yen failed to retain the Olympic title and finished with a bronze.
According to a rule newly introduced at Beijing Olympics, losers to the finalists can play in the repechage to compete for two bronze medals.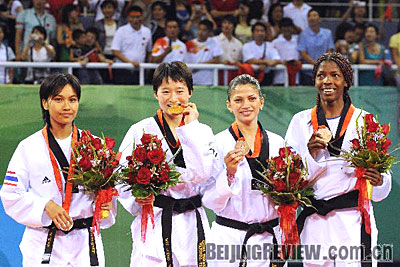 (L-R) Silver medallist Buttree Puedpong of Thailand, gold medallist Wu Jingyu of China, and bronze medallists Dalia Contreras Rivero of Venezuela and Daynellis Montejo of Cuba at the award ceremony
(Xinhua News Agency August 20, 2008)