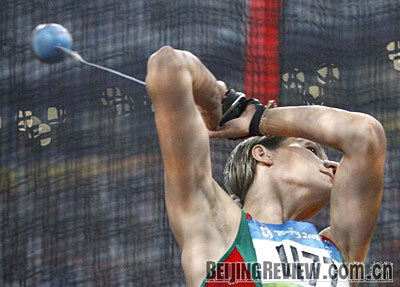 Aksana Miankova of Belarus during the competition
Aksana Miankova of Belarus won the gold medal in women's hammer throw at the Beijing Olympic Games  on Wednesday with a new Olympic record of 76.34 meters.
The silver medal went to Yipsi Moreno of Cuba with 75.20 meters. China's Zhang Wenxiu claimed the bronze with 74.32 meters, wining China's second bronze in athletics at the ongoing Games.
Miankova secured the gold through her fifth attempt, a 76.34-meter throw, an improvement of more than a meter from the previous mark of 75.02meters. Yipsi Moreno consolidated her second place finishing with a throw of 75.20 meters in her last attempt.
Zhang Wenxiu took the bronze with her season's best throw. She had threatened to take silver, having thrown 74 meters with her first effort. She threw it out to 74.32 meters with her second throw, but was unable to improve on that in the latter stages of the competition.
"All the finalists are very competitive, and I played up to my potential today," said the Zhang, world championship bronze medalist. "My target is yet to reach. I want a gold medal." The 24-year-old finished seventh at the Athens Games.
Betty Heidler of Germany, world champion of 2007, finished ninth after a best throw of 70.06 meters.
(Xinhua News Agency August 20, 2008)