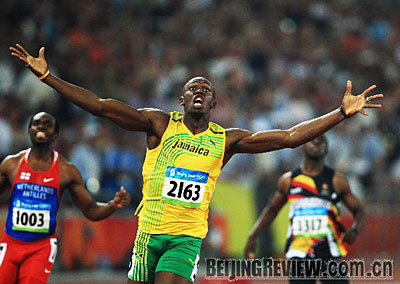 Usain Bolt of Jamaica, the Olympic men's 100m gold medalist, broke the men's 200m world record in19.30 seconds at the Beijing Olympic Games on Wednesday, even into a headwind of 0.9 m per second.
The previous record of 19.32 seconds was set by American Michael Johnson at the 1996 Atlanta Olympic Games. The 21-year-old had already broken the 100m world mark at the ongoing Games when he became the fastest man in the world in 9.69 seconds.
In tonight's 200m race, a dramatic story were written by Churandy Martina of the Dutch Antilles, who finished second, and Wallace Spearmon of the United States, who got the third. They were both disqualified for encroaching on neighboring lines.
Spearmon was disqualified just after the sprint for encroaching on other line. However, he attributed his foul to Martina, saying that Martina stepped into his line first. After an investigation, both were disqualified.
Then the original fourth finisher American Shawn Crawford, who won the 200m gold medal in the 2004 Athens Olympics, became the silverist in 19.96 seconds and his teammate Walter Dix was subsequently offered the bronze in 19.98.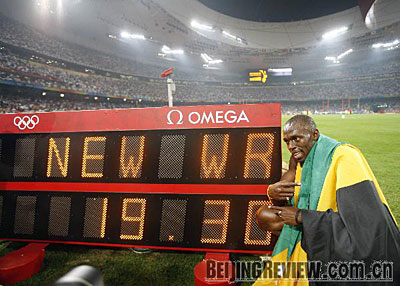 Usain Bolt of Jamaica poses by the results board with his new world record after the men's 200m final at the National Stadium
(Xinhua News Agency August 20, 2008)