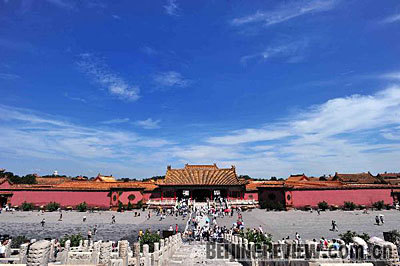 Measures taken by Beijing to tackle air pollution before the Olympic Games have proved to be effective, setting at rest previous concerns over the issue, an article in the French sports daily L' Equipe said Thursday.
Measures taken before the Games, such as relocating or closing pollution-causing factories and pulling half the cars off the streets each day, have all proved effective, the article said.
It also highlighted the blue skies seen during the event.
Beijing's air quality has also received high praise from athletes participating in the Olympics, the paper said.
"Honestly, I did not feel uncomfortable. The sky is blue and it is only a bit hot. That's it," said Jared Tallent of Australia, who won bronze in the men's 20km walk.
French race walker Yohann Diniz, who won a silver medal at the 2007 World Athletics Championships in Osaka, Japan, said he did not feel the presence of any pollution in Beijing. It was in fact easier for him to adapt to the weather in Beijing than in Osaka, he added.
Race walker Francisco Javier Fernandez of Spain said he was very satisfied with Beijing's weather information service, calling it "perfect."
(Xinhua News Agency August 21, 2008)